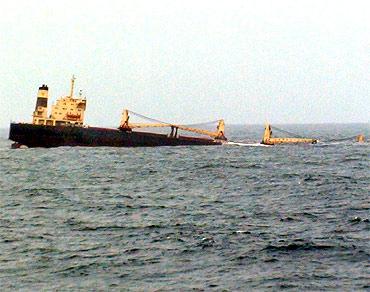 On Thursday morning, Coast Guard officials rescued as many as 30 crewmembers from the cargo vessel MV RAK, even as 3/4th of the 225 meter-long vessel had sunk into the choppy waters of the Arabian Sea. MV Rak was carrying 60,054 meteric tonne of coal. Toral Varia, brings you a blow-by-blow account of the rescue operation.
The first SOS call was made at 7.25 hours on Thursday by a crewmember of the Panama-registered bulk vessel MV RAK, relaying a call sign 3FYL7 to the Vessel Traffic Management Service,
"Please help us! Our boat is sinking!" Co-ordinates of the vessel at the time of the call was approximately 20 nautical miles from Mumbai near 248 Prongs Light. The ship, which started off from Lubak Tutung port, Indonesia and was on its way to Dahej in Gujarat
The call was received by the Coast Guard Ops Centre in Mumbai and immediately a search and rescue op was launched. The centre communicated the distress to the Indian Navy and simultaneously launched two HELO choppers from Coast Guard base INS Shikra at 8:15 hours and 8:30 hours respectively. They diverted the Coast Guard pollution control vessel CGS Samudra Prahari and at the same time, MV CGA CGM Puget and MV Stella, who were already anchored close by, were roped in for the rescue operations.
According to a Coast Guard official involved in the rescue operations, "More than half of MV Rak had sunk when our choppers reached there. By then at least 15 crew members had already jumped into the choppy waters."
Within minutes of reaching the spot, the crew of both the HELO choppers started the winching operations. Each HELO had four members consisting of a pilot, a co-pilot and two divers. "On seeing the choppers more crew members started throwing themselves into the sea," recounted one of the rescuing Coast Guard officials.
Rescued crew members were placed on board MV CGA CGM Puget and MV Stella. Subsequently all the crew was airlifted and safely brought to naval airbase INS Shikra.

"We have rescued the crewmembers and now assessment is in progress to refloat the vessel and tow it away from the coast," said Commandant Ram Vinod Prasad, spokesperson for the Coast Guard.
Rescued crewmembers are all nationals of Joardan, Indonesia and Romania. The operation lasted for about two and half hours. Few hours after the mission, MV Rak Carrier sunk off the coast of Mumbai.
All the rescued members were taken to the Yellow Gate police station and will be released after officials complete the paperwork.
This vessel is owned and managed by M/s Delta Shipping Marine Services, Qatar and classed with Lloyds Register of Shipping. The vessel was reported to be having about 290 tonnes of fuel oil and 50 tons of diesel oil.
Meanwhile, the Directorate of Shipping, under the provisions of Merchant Shipping Act, 1958 section 356 J & K has issued statutory notice to the ship owner, ship manager and the local ship agent.

Image: MV Rak sunk off the coast of Mumbai on Thursday afternoon