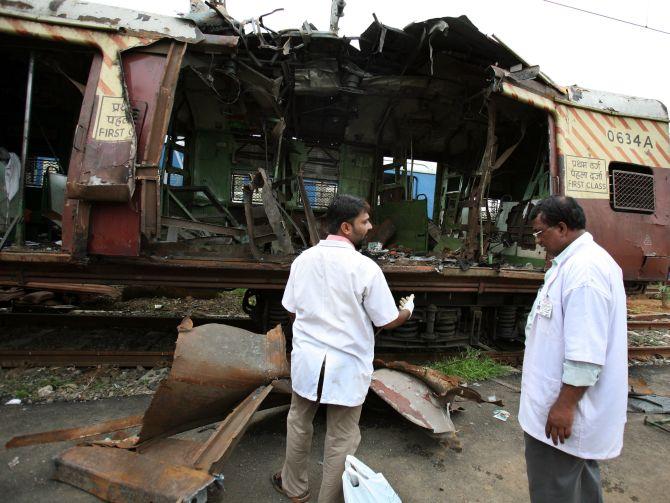 All 12 convicts found guilty in the case relating to the July 11, 2006 serial train blasts, which claimed 188 lives in local trains in Mumbai, have pleaded leniency in the court on the point of sentence citing humanitarian grounds.
Designated Maharashtra Control of Organised Crime Act Judge Yatin D Shinde had on September 11 held them guilty of complicity in the crime while acquitting 34-year-old Abdul Wahid Shaikh, also an accused, in the case.
They were found guilty of planting bombs in local trains which exploded at various stations in the peak hours causing panic among the commuters returning home from work.
The judge called each convict before him and recorded their respective statements on the quantum of sentence to be awarded to them.
After the court records their statements, their lawyers and the prosecution would argue on the quantum of sentence. The proceedings would continue on Tuesday.
Convict Kamal Ansari pleaded that minimum punishment be given to him.
"I have small kids", Ansari told the court.
Another convict, Tanvir Ahmed, a doctor, said he had chosen the profession to help the poor and he wished to serve the needy.
He also said that he had worked in a charitable hospital.
"I have no past criminal record and I have behaved well in the jail (as an undertrial). I did a post graduation in disaster management and have improved my academic records", Tanvir told the court. He also said that he did pose a danger to the society and prayed for minimum punishment.
Another convict, Mohammed Faisal Shaikh, also prayed for a lesser sentence saying he was suffering from brain tumor for the past three years. "I got brain tumor in jail. I also have spine-related ailments".
He said he was not convicted by any court earlier and does not have any intention to commit any crime in future.
Shaikh said his parents were old and there was nobody to take care of them.
"My brother has also been convicted in the same case", he said seeking minimum punishment.
Yet another convict, Ehtesham Siddiqui, told the court that he hails from a poor family and was operating a small business (before arrest).
"I could not get education as we were poor and with great difficulty I was able to learn. My brother runs the family and he is not financially sound," said Siddiqui.
He further said that after going to jail he was able to get education and currently he is doing graduation in law. He also pleaded for minimum punishment saying that there is nobody to take care of his family after he goes to jail.
All the convicts submitted a written statement to the court highlighting the mitigating circumstances in the case and said they should not be given capital punishment.
Mohammed Majid Shafi, who also has been convicted in the case, told the court that he has no criminal antecedents and had a footwear shop.
"My family is educated and my wife is a doctor", Shafi said, adding that all his family members are suffering from some ailment.
He said his wife was suffering a kidney ailment and had arthritis. Moreover, he has a 9-year-old daughter and his mother is also ill.
"There has been no complaint from jail and I never fought with other inmates or jail staff".
Shafi also said he is appearing for his first year Bachelor of Arts course. He pleaded that since he is a resident of Kolkata he should be shifted to a prison there to serve his jail term.
However, the judge said the jail authorities will decide in which jail he would be lodged.
Another convict, Shaikh Alam Shaikh, said he was a hawker at the time of arrest.
"I used to do social service and report about illegal activities in my locality. My parents were old and infirm. The police have falsely implicated me in this case", Alam said.
He also said that he has a good prison record and he is currently doing his Masters degree course in jail.
"I am not a threat to the society and have witnesses to vouch for my character," Alam said.
Mohammed Sajid Ansari, who has also been convicted, told the court that he is innocent like the accused in Malegoan 2006 blast case.
"I have falsely been implicated and Anti-Terrorism Squad fabricated the evidence while the court failed to recognise false evidence," he said.
He said he has sympathy for blast victims and he joins them in their pain and agony.
Another convict, Muzzammil Shaikh, told the court he was innocent and had no criminal record. Also, there is nobody to take care of his parents.
He said that he does not know whether his brother (an absconding accused in the case) is alive or dead.
"I am suffering from memory loss," he said, adding that he may be given minimum punishment.