A court in Varanasi on Monday awarded life sentence to gangster-politician Mukhtar Ansari for the murder of a Congress leader's brother, Awadhesh Rai, more than 30 years ago.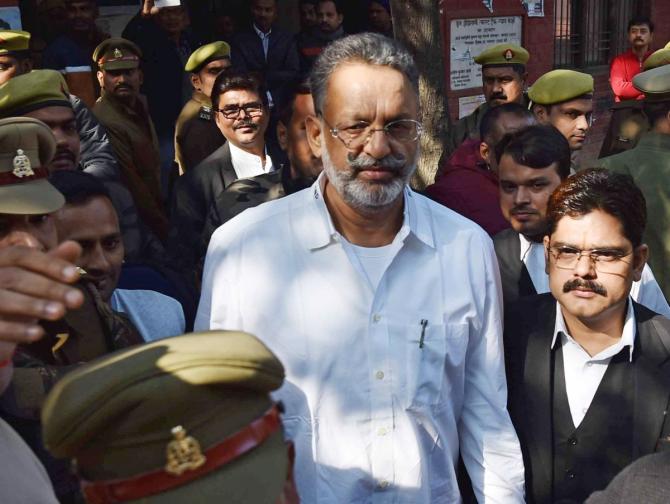 Awadhesh Rai, the brother of Congress leader Ajay Rai, was shot dead on August 3, 1991, at the gate of his Lahurabir residence in Varanasi.
A case was registered against Ansari and others.
Ansari faces 61 criminal cases in different states of which he has now been convicted in six.
In April, he was sentenced to 10 years in jail by a court in Ghazipur under the Gangsters Act.
Ajay Rai is now a regional chief of his party's Uttar Pradesh unit.
The MP-MLA court's special judge Avanish Gautam awarded life sentence to Ansari and imposed a Rs 1.20 lakh fine on him, a lawyer told reporters outside the Varanasi court.
Ansari attended the court proceeding from Banda jail through video conference.
Ajay Rai welcomed the judgment and said, "This is the end of our 32-year struggle against a notorious criminal. I, my parents, Awadhesh's daughter and the whole family kept patience... Governments came and went and Mukhtar strengthened himself."
"But we did not give up. Because of our lawyers' efforts, today the court has found Mukhtar guilty in the murder case of my brother," Rai added.
He asserted that those who stand up to gangsters and fight will get justice.
"We received threats. I have been demanding security and it should be enhanced. If something happens to me, the BJP government will be responsible," Rai said.
Ansari's counsel had urged the court to consider the convict's age while pronouncing the judgment. The lawyer said they would appeal in a higher court after going through the verdict.
Asked about the remarks of Ansari's lawyer, Rai said, "We will fight up to the Supreme Court. We fought for 32 years and we will continue to do so."
On August 3, 1991, Ajay Rai and his brother were standing at the gate of their house in Varanasi when some assailants, including Ansari, came there in a car and shot Awadhesh.
Ajay Rai fired from his licensed pistol in retaliation, following which the assailants fled, leaving the car.
Awadhesh was rushed to a hospital in Kabirchaura, where doctors declared him dead.
Ansari, a five-time MLA from Mau Sadar seat, did not contest the 2022 Uttar Pradesh Assembly election and the seat was won by his son Abbas Ansari on a ticket from the Suheldev Bharatiya Samaj Party, which had tied up with the Samajwadi Party.
According to UP Police's Special Director General, Law and Order, Prashant Kumar, "A total of 61 cases are pending against Mukhtar Ansari in Uttar Pradesh, Punjab, New Delhi and other states. In Uttar Pradesh, cases are registered against Ansari in Ghaziupr, Varanasi, Chandauli, Sonbhadra, Agra, Lucknow, Barabanki, Mau, Azamgarh and other districts."
"Ansari has so far been convicted in six cases -- two each in Ghazipur and Lucknow, and one each in New Delhi and Varanasi," Kumar said.
The New Delhi case in which Ansari was sentenced to 10 years of imprisonment and fined Rs 5.5 lakh was registered under the Arms Act and Terrorist and Disruptive Activities (Prevention) Act (TADA), the police officer said.
On April 29, a court in Ghazipur sentenced Ansari to 10 years in prison and his brother and BSP MP Afzal Ansari to a four-year jail term in a 2007 case registered under the Gangsters Act following the killing of then Bharatiya Janata Party MLA Krishnanad Rai.
Ansari's brother Afzal, sons Abbas and Omar, wife Afsha and daughter-in-law Nikhat Bano are members of his gang, Kumar said, adding the Uttar Pradesh government was taking strict action against the Ansari gang.
"Action has been taken against 288 active members of the Ansari gang. Of them, 202 have been arrested, including six against whom the stringent National Security Act has been invoked while 156 have been booked under the Gangsters Act," the police officer said.
"The state government has seized/demolished illegal properties of Ansari worth Rs 586 crore and stopped over Rs 2,100 crore illegal businesses," he said.
Awadhesh Rai's brother Ajai Rai was BJP MLA thrice, winning the Kolsala assembly constituency from 1996 to 2007.
He won the 2009 assembly bypolls from the same seat as an Independent candidate. He won the 2012 assembly elections from the Pindra seat on a Congress ticket.
Rai was the Congress candidate in the 2014 Lok Sabha elections from Varanasi against Narendra Modi and was placed in the third position after Aam Aadmi Party leader Arvind Kejriwal.
He lost the 2017 assembly polls as well as the 2019 Lok Sabha polls.