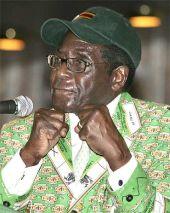 Zimbabwean President Robert Mugabe is reportedly fighting for his life in a Singapore hospital with an undisclosed illness.
According to a Zimbabwe Mail report, a senior official of Mugabe's ZANU-PF party, said the president was undergoing intensive treatment in Singapore and that some members of his family had joined him after boarding a chartered private jet on Saturday.
The report comes amid revelations that Mugabe had agreed to hand over power to his Defence Minister Emmerson Mnangagwa.
Mugabe, 88, was apparently in Singapore to oversee enrolment in a postgraduate course at Singapore University for his daughter Bona, The Australian reports.
According to a US diplomatic cable released by WikiLeaks last year, Mugabe is believed to be suffering from prostate cancer that has spread to other organs.
He was urged by his physician to step down in 2008, but has stayed in the job.
Image: Robert Mugabe