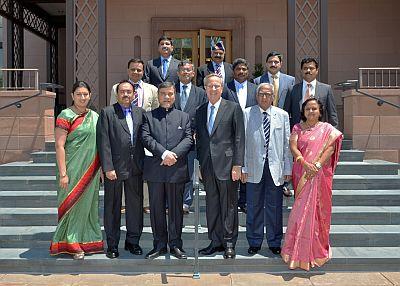 The upcoming general elections in India, the future of Afghanistan and Pakistan after the United States' military withdrawal in 2014 and the US culture of innovation and entrepreneurship dominated the 7th India-Yale Parliamentary Leadership Programme late last month.
The 2013 cohort of 11 members of India's Parliament came to the Yale University campus in New Haven, Connecticut, to complete a six-day leadership programme with the university faculty and was complemented by a four-day programme of meetings, discussions, and interactions in New York that included visit to the New York Stock Exchange, the United Nations Security Council and the New York Times editorial board.
YaleUniversity, widely recognised for educating leaders in government, business, and civil society worldwide, launched the India-Yale Parliamentary Leadership Programme in 2007. The 2013 programme was held in a new partnership with the Governance and Public Policy Initiative of the Center for Policy Research in New Delhi.
The 2013 participants were drawn from five different national and regional political parties in India, and included the vice president of the Bharatiya Janata Party, Smriti Irani, and the vice president of the Telugu Desam Party, C Ramesh. In addition to BJP and TDP, there were also representatives from the Congress Party, All India Trinamool Congress, and the Shiv Sena.
The first six rounds of the India-Yale Parliamentary Leadership Programs were held in October 2007, June 2008, June 2009, June 2010, June 2011, and June 2012 respectively, with different delegations of Indian parliamentarians. In total, more than eighty members of India's Parliament have participated since the programme was created seven years ago.
"The India-Yale Parliamentary Leadership Program underscores Yale's longstanding commitment to educating our students for service and leadership. We have now gone a step further to include emerging and mid-career leaders," Yale President Richard C Levin said.
"The program will provide the parliamentarians with opportunities to critically think about the challenges of leadership and to explore freely, away from the legislative arena, the issues facing India," Levin said.
In the academic programme on the Yale campus, the delegation participated in discussions with Yale faculty on nuclear non-proliferation, the democracy movement in the Arab world, women's empowerment, elections theory and practices, political and economic developments in China, campaign finance reform, the environmental impact of shale gas development, Afghanistan and Pakistan after 2014, pharmaceutical innovation and patent law and climate change mitigation.
The participating 2013 parliamentarians included among others Bhubaneswar Kalita (Congress Rajya Sabha member from Assam) VP Singh Badnore (BJP Rajya Sabha member from Rajasthan), Shadi Lal Batra Rajya Sabha( Congress Rajya Sabha member from Haryana) and Smriti Irani (BJP Rajya Sabha member from Gujarat).
Image: MPs at the Yale University
Photograph Courtesy: Yale University