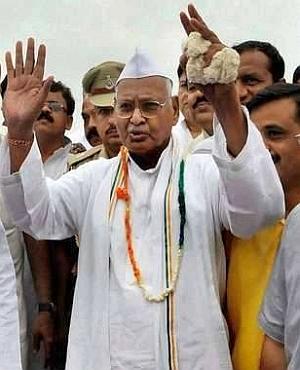 An autopsy has failed to identify the cause of death of MP Governor Ram Naresh Yadav's son Shailesh, an accused in the the multi-crore Madhya Pradesh Vyavsayik Pareeksha Mandal scam, according to UP police, even as his family said on Thursday they do not suspect any foul play.
Police said viscera samples have been preserved.
"The postmortem report says that cause of death could not be ascertained. Viscera and heart of Shailesh have been preserved," Senior Superintendent of Police Yashasvi Yadav said.
Police had on Wednesday said that prima facie the death appeared to be due to brain haemorrhage or heart attack.
The SSP on Thursday maintained that the death appeared to be "natural".
The post-mortem examination of Shailesh was conducted on Wednesday and its findings came last night.
Shailesh Yadav, 50, was found dead under mysterious circumstances in his room at the official residence of his father, a former Uttar Pradesh Chief, at 1 Mall Avenue in Lucknow on Wednesday morning.
A section of media and some Congress leaders have raised suspicion over the death.
But Shailesh's elder brother Kamlesh Yadav, who is an Uttar Pradesh Congress member, told reporters, "It is a natural death. The matter will be clear when the final report comes. We don't suspect any foul play."
Governor Ram Naresh Yadav, who is ailing, was being taken in an air ambulance from Bhopal to Lucknow to attend the last rites of his son.
A team of doctors was accompanying Yadav and he will be admitted to Sanjay Gandhi Post Graduate Institute of Medical Sciences Lucknow for treatment.
Ram Naresh Yadav, 86, who himself has been named as an accused in the scam, was admitted to Bansal Hospital a few days back following respiratory problems.
The Governor is likely to remain in Lucknow till the 13th day post-death rituals, sources said.
Ram Naresh Yadav has challenged in the High Court the inclusion of his name as an accused and sought immunity.
Shailesh's name had cropped up in the multi-crore scam for allegedly fixing the recruitment of 10 candidates as Grade III teachers.
In his statement to the Special Task Force probing the Professional Examination Board scam, Veerpal Yadav had alleged that he handed over a list of 10 candidates and Rs three lakh to his friend Vijay Pal, who gave the money and names allegedly to Shailesh at Raj Bhawan.
The scam involves alleged irregularities and corruption in the Madhya Pradesh Professional Examination Board