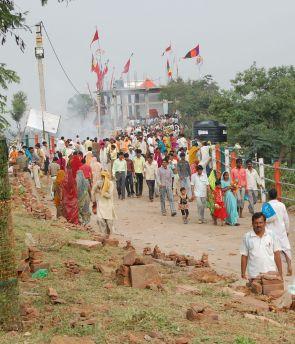 Eighty nine people, including 31 women and 17 children, were on Sunday killed and over 100 injured in a stampede during Navratri festivities near a temple in Madhya Pradesh's Datia district after rumours that a bridge the devotees were crossing was about to collapse.
"89 people were killed in the stampede on the bridge over Sindh river leading to the temple at Ratangarh, where lakhs of devotees had congregated, following rumours by some unidentified persons that it was collapsing," Deputy Inspector General (DIG) of Police, ChambalRange, D K Arya told PTI.

The state government has ordered a judicial inquiry into the mishap.
The festivities turned into a tragedy as the devotees from Datia and neighbouring Uttar Pradesh thronged the Durga temple to offer prayers on the occasion of Navratri at Ratangarh, about 60 km from district headquarters in Datia and around 320 km away from the state capital.
Unconfirmed reports said that the stampede took place as some people were trying to jump the queue and police used batons to control them.
Arya said nearly 100 people have been injured in the mishap and they have been rushed to nearby hospitals.

Heart-rending scenes were witnessed as anxious relatives searched for their loved ones from the large number of bodies that lay on the bridge.
The irate crowd, protesting over the incident, pelted stones and clashed with the cops following which police used mild lathicharge to disperse them.
Amid the chaos, police and local volunteers had a tough time to bring the situation under control.

A sub divisional police officer suffered serious injuries after being hit by stones, the DIG said, adding that some other policemen were also injured.
The situation has been brought under control, Arya said.
The state government, with the approval of the State Election Commission in poll-bound Madhya Pradesh, has announced an ex-gratia of Rs 1.5 lakh to the kin of those killed in the stampede.

The government also announced an assistance of Rs 50,000 each to the seriously injured and Rs 25,000 each for those who suffered minor injuries in the mishap.