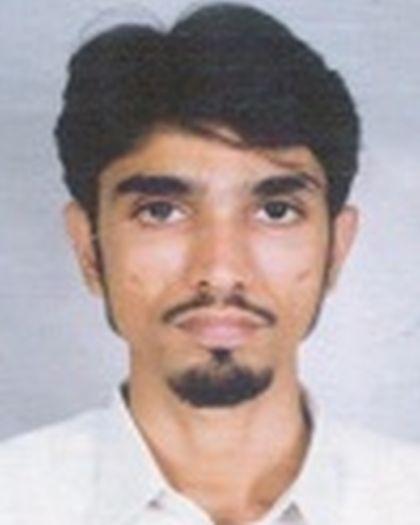 Abdul Subhan Qureshi, known as 'India's Osama bin Laden' and wanted for being the main conspirator of the 2008 Gujarat serial blasts, has been arrested following a brief exchange of fire, Delhi Police said on Monday.
Qureshi alias Tauqeer, co-founder of the Indian Mujahideen and linked to the Students Islamic Movement of India, was arrested from Ghazipur in east Delhi on Saturday evening, ahead of Republic Day.
Qureshi, one of India's most wanted terrorists, had executed the 2008 Gujarat serial blasts that claimed over 50 lives, as he wanted to do "something spectacular" to avenge the arrest of his associates, police said.
He was working with a top IT firm before he joined SIMI in 2001-2002. The 46-year-old is a techie and had he not joined SIMI, he would have been a high-ranking official in a firm, police said.
He was arrested after the police got a tip-off that he would come to meet an old acquaintance in Ghazipur.
As many as 13-14 rounds were exchanged between the police and Qureshi, said Pramod Singh Kushwah, deputy commissioner of police (Special Cell).
A pistol, live cartridges and a Santro car, stolen in November 2014, were seized from him.
Even though his arrest came days before Republic Day, police said that he was not planning any attacks in Delhi.
He was later handed over to the Delhi Police by a city court for custodial interrogation for two weeks.
It had emerged following interrogation of IM and SIMI operatives, who had been arrested earlier, that Qureshi was indoctrinating the unemployed youth among the community to fill the void left by the fall of top IM operatives.
He was planning the revival of the scattered network of the organisation in Uttar Pradesh, Maharashtra, Karnataka, Gujarat and Madhya Pradesh -- areas where the outfit enjoyed a stronghold earlier, the DCP said.
Qureshi had earned the moniker 'India's Osama bin Laden' as police forces of many states and the National Investigation Agency were on the lookout for him.
He was wanted by the NIA in connection with its probe into the December 2007 Wagamon SIMI arms training camp case. A reward of Rs four lakh had also been announced for his arrest.
The Maharashtra Police was also on the lookout for him for his alleged role in the blasts that rocked Mumbai in July 2011.
During his stay in Bijapur in Karnataka, he frequently travelled to Bhatkal and revived his association with IM associate Riyaz Bhatkal. He also came in contact with Iqbal Bhatkal, another IM operative, Kushwah said.
On July 11, 2006, SIMI and IM executed serial blasts in the local trains in Mumbai.
Subsequently Qureshi's name figured in this case and he fled from Mumbai to Karnataka, said the officer.
SIMI and IM together wanted to carry out widespread terror activities. A meeting of SIMI cadres under the aegis of SIMI chief Safdar Nagori and Qureshi took place at Castle Rock, Hubli, Karnataka in 2007, police said.
Subsequently, training camps of SIMI cadres were organised at Choral, (Indore, MP) in November 2007, at Wagamon (Kerala) in December 2007 and at Halol (Gujarat) in January 2008, Kushwah said
In these training camps, physical and psychological training was imparted to the cadres to wage jihad against India.
Mountaineering, swimming, map reading, pistol firing, preparing and using Molotov cocktail (Petrol Bomb), enacting fake accidents to declare death of cadres and other evading tactics to be adopted to mislead the interrogators if arrested, were also taught, the DCP said.
Qureshi and Nagori were the main organisers and chief instructors at such camps.
Following the arrest of Nagori and other SIMI activists, Qureshi became the head of SIMI and took the initiative to engineer the 2008 serial blasts in Gujarat as revenge for the arrests of his associates, said the officer.
For this purpose, he contacted his IM associate Riyaz Bhatkal and went to meet the latter in Pune in May-June 2008 to share the details of his plan and offered his team to physically execute the bomb blasts.
According to the plan, a group of radically motivated youths of IM were tasked with planting bombs at different places in Ahmedabad and Surat in Gujarat, Kushwah said.
On July 26, 2008, 23 serial bomb blasts rocked Ahmedabad resulting in death of 57 people and grievous injuries to over 150 others. In total, 20 cases were registered in different police stations in Ahmedabad.
The IM terrorists also planted IEDs at several places in Surat. However, the IEDs did not explode due to malfunctioning of the timer device.
Police recovered 29 unexploded IEDs between July 27 and August 3, 2008.
As soon as the role of SIMI and IM came to the fore, Qureshi left Gujarat and fled to Ranchi to take shelter at the residence of a SIMI cadre, said Kushwah.
From Ranchi, he went to Chappra and then to Raxaul on the Indo-Nepal border in Bihar. He crossed over to Nepal and reached Birat Nagar where he met a man named Nizam Khan, a SIMI sympathiser, who ran an NGO, Nepal Development Society, he said.
He informed Khan about his SIMI links but did not disclose his real identity.
With Khan's help he started to live in Batta, Birat Nagar, and also started teaching English at a Christian boarding school. He stayed in Batta from October 2008 to January 2009 and then moved to Gorkha.
During his stay in Nepal, Qureshi also managed to procure fake local civilian IDs (Voter ID) through Khan and remained in Nepal till 2015.
During this period, he again came in contact with Riyaz Bhatkal who motivated him to come to Riyadh, Saudia Arabia, for arranging finances and to revive IM in India, the DCP said.
He procured a Nepali passport in the name of Abdul Rehman and in February-March 2015, he went to Saudi Arabia on the basis of that passport, he said.
For cover, he worked as a salesman in various stores and also had meetings with many SIMI-IM sympathisers there. He returned from Saudi Arabia in June 2017.
After returning from Saudi Arabia, he started to visit India clandestinely to revive SIMI-IM, when he realised that SIMI leaders had been arrested or had fled India, said Kushwah.
Through his contacts, he procured logistics for his visits to India.
Photograph: National Investigation Agency