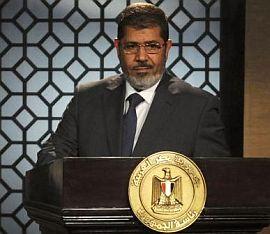 Beleaguered Egyptian President Mohammed Morsi on Wednesday refused to quit and offered a consensus government to end a standoff with the powerful military, as the 48-hour deadline for him to meet people's demands expired with both sides pledging to sacrifice their lives to defend the country.
"The presidency envisions the formation of a consensus coalition government to oversee the next parliamentary election," the President's office said in a statement posted on Facebook.
Morsi reaffirmed his call for a national dialogue and the formation of a panel to amend the country's controversial Islamist-drafted constitution. He insisted on continuing as the president.
There was a "clear roadmap which is based on constitutional legitimacy... and includes the formation of a temporary coalition government based on national participation to oversee the coming phase," 61-year-old Morsi, Egypt's first democratically elected President, said.
"There would be an agreement from all political trends over the (choice of) prime minister," his office said. Morsi reiterated that he was a "president for all Egyptians".
Egypt edged closer to a return to rule by the army generals as both sides refused to back down with the 48-hour military deadline for Morsi to resolve the ongoing political crisis coming to an end.
Morsi, who looked increasingly isolated as many of his cabinet colleagues abandoned him, earlier said he had been elected in a free and fair poll to lead the nation and intended to stick to his task.
Meanwhile, the health ministry said 23 people were killed and 200 others injured in violence between pro-and anti Morsi supporters at CairoUniversity in the Giza district in the capital since Tuesday night, taking the toll to 39 since Sunday.
Morsi, in a 46-minute emotional address televised live across the country late on Tuesday night, had warned that the only alternative to respecting the constitutional legitimacy of the office was further bloodshed on the streets.
Morsi said he would give his life for Egypt and insisted he is the legitimate leader and will not give in to "violence and thuggery" by resigning.
"The general commander of the armed forces said it was more honourable for us to die than to have the people of Egypt terrorised or threatened," the army on Wednesday said in a statement headlined "The Final Hours".