More women battalion are needed in Manipur to tackle those posing as 'Meira Paibis' (women torch bearers) as they have not only "prevented" movement of central paramilitary forces in the strife-torn state but also "helped" in carrying out serious crimes, according to security officials.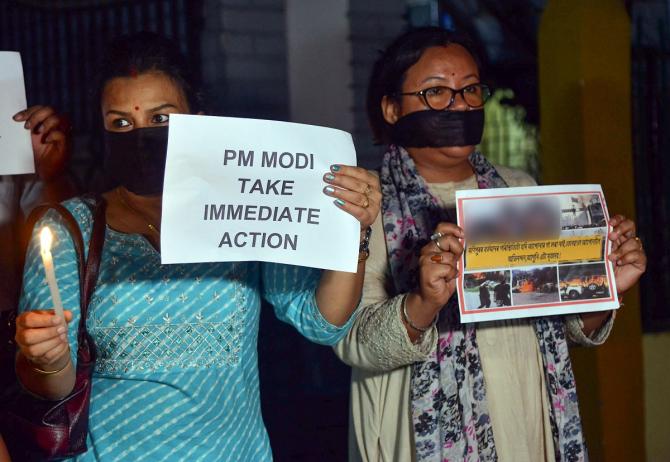 The Assam Rifles has a skeletal presence of women and the officials feel that they are not trained for a law-and-order situation.
Officials engaged in maintaining law and order in the state have been pressing for more women paramilitary forces in the state especially those from Rapid Action Force, who are completely equipped with their riot gear.
"You see these women calling themselves as Meira Paibi often threaten to disrobe themselves if pressured. Now, when an army convoy is proceeding towards another destination in the hills, these women with sticks block the roads," an official said on the condition of anonymity.
Officials said there have been instances when reinforcements moved by the Army or Assam Rifles to prevent an attack or intervene in an armed conflict between the two fighting communities in Manipur have been stopped by these so-called vigilantes who ask everyone -- be it an officer or a jawan -- to show their identity cards
One can see a group of 20 or more women, armed with sticks, standing at crucial intersections of the Imphal road, checking anyone and everyone so that no help is extended to tribal people locked in the hills.
Journalists, who have come to cover the situation in Manipur, are also not spared from questioning by these vigilantes.
On many occasions, Manipur Police has been a silent spectator when these women vigilantes engage in arguments with Army personnel on duty, the officials said.
At present, there are three CRPF Mahila companies besides 10 companies of RAF with Mahila platoons putting the number at 375 only. One CRPF company has 75 personnel while a RAF Mahila platoon has 15 personnel, a strength which is pretty less to counter hundreds of women activists patrolling the roads.
Recently, five women, who acted as Meira Paibis, were arrested in connection with murder of a Naga Maring lady on the outskirts of Imphal. These so-called women vigilantes were also instrumental in the release of 12 cadres of banned KYKL terror group in June which included the main accused in the killing 18 soldiers in 2015, officials said.
Traditionally, Meira Paibis have been torchbearers in the fight against social injustice of various forms in Manipur.
According to a paper 'A Brief Review of Meira Paibi: A Women's Movement in Manipur' published in 'Asian Review of Social Sciences' journal, every woman in Manipur becomes a Meira Paibi during a difficult situation which directly affects the communities.
In pre- and post-independence period of India, various women organisations played a pivotal role in the fight against social injustice in the society and one such group is Meira Paibi, formed from the one of largest population in Manipur.
In 1904 and 1939, elderly women in the age group of 50-70 years came together in forming the Meira Paibi group and they were also called as 'Imas' meaning mothers in Manipuri.
But post-independence, all age group women were involved in the Meira Paibi organisation.