'We are going through the most difficult phase in Indian democracy, and not only in Tamil Nadu. If people like me, who have nothing to gain except a retrieval of democratic values, don't come forward now, then we are doomed.'
Actor Vishal tells Subhash K Jha what made him take the political plunge.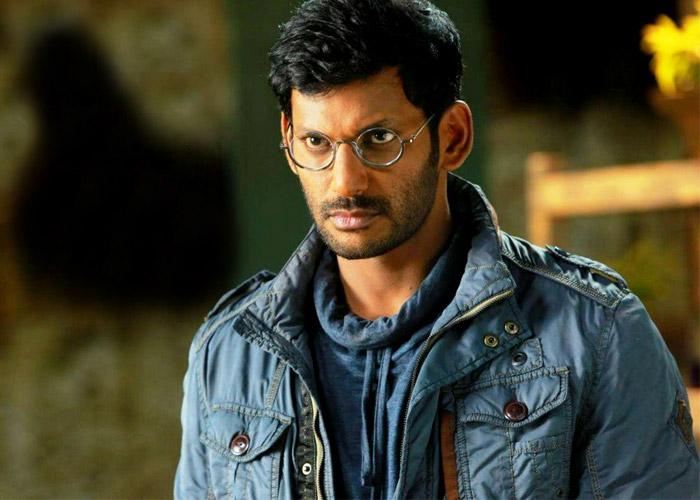 Tamil actor Vishal Krishna can't get over the shock of his nomination papers for the bypolls in Chennai being rejected.
The actor, who has now decided to take a headlong plunge into politics, says, "What we are witnessing is the systematic and effectual death of democracy in our country. Every democratic norm is being reduced to a mockery."
Vishal had stood up to support his friend, superstar Vijay, when the latter's film Mersal was recently attacked by certain sections of Bharatiya Janata Party supporters.
"That is when I decided that more of us from the entertainment industry need to jump into the cesspool rather than making noises about the filth from the sidelines," says Vishal, probably referring to Kamal Haasan who, after his hefty hullabaloo over political corruption in Tamil Nadu, has taken a "thoughtful break" from his initiation into politics.
"We can't afford to pull back and wait for change in the political system. We have to be the change. That's why I decided to contest the bypoll from Radha Krishna Nagar where neither a councillor nor a ward has been installed since the last elections. The civic infrastructure stinks. If we don't take charge of the politics at the municipal level, how can we even begin the process of cleaning up the political mess in Tamil Nadu?" wonders Vishal.
However, to his shock his election papers were rejected.
"An entire soap opera was played out on Tuesday. First my papers were rejected on the absurd ground that two of the signatures were forged. I thought this was the height of absurdity. But then it got even more ludicrous. I was told it's okay and that my nomination has been accepted, Then again, I was told my nomination was rejected."
Vishal says the seesaw between yes and no would have been highly flattering if it was not so scary. "The fact that I am seen as such a threat to the status quo is very flattering. However, the seeming attempts to sabotage my tentative foray onto active politics also indicates a subversion of all democratic norms. And that's frightening."
The actor, who was last seen playing Mohanlal's adversary in the Malayalam crime thriller Villain, sees democratic norms being flouted all around us.
"We are going through the most difficult phase in Indian democracy, and not only in Tamil Nadu. If people like me, who have nothing to gain except a retrieval of democratic values, don't come forward now, then we are doomed."
Vishal is not scared of his film career being affected by his politics. "If you mean the forces that tried to sabotage my nominations would obstruct my career, I don't think they would be able to. They would be foolish to try. If you mean I'd be able to devote less time to my film career if I take to active politics, then that's a compromise I am willing to make."