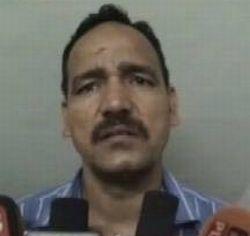 Moradabad SSP allegedly beat three police followers posted at his residence, following which Uttar Pradesh government suspended him on Sunday.
"SSP Rajesh Modak has been suspended for misbehaviour with his followers," UP home department sources said in Lucknow.
DIG, Moradabad, Amrendra Kumar Sengar said the three police followers had given him a written complaint on Saturday that Modak had beaten them unnecessarily.
"Guman Singh, Sunder Singh and Daya Kishan gave me a written complaint that the SSP, at whose residence they were posted in Moradabad, had beat them without any reason," the DIG said.
He said the complaint had been forwarded to the headquarters.
Modak reportedly beat the police followers posted at his residence in Moradabad on Saturday for not informing him about the visit of Samajwadi Party leader S T Hasan and keeping the leader waiting.
Meanwhile, Hasan said the SSP's staff kept him waiting for over an hour when he had gone to meet him.
He claimed that Modak had only scolded his staff and not beaten anyone in front of him. He said the charge is false and he would write to the home department asking why the SSP was suspended.
Image: A video grab shows one of the police followers who was allegedly beaten up by Moradabad SSP Rajesh Modak on Saturday