Light to heavy rains after nearly a month-long dry spell brought relief to Mumbai from the sultry weather conditions even as suburban train services on western and central lines were hit due to the water-logging in some parts following incessant showers on Tuesday.
Women passengers hang outside of a crowded train near Thane station. Photograph: Sahil Salvi
Heavy rains threw normal life out of gear in the metropolis on Tuesday, leading to waterlogging in low-lying areas and disrupting local train services that hampered mobility of thousands in the morning rush hours.
Many other trains were rescheduled including the August Kranti Rajdhani Express.
The incessant rains claimed two lives in a wall collapse at Govandi last evening. A woman injured in the incident was admitted to hospital, an official from Disaster Management cell said.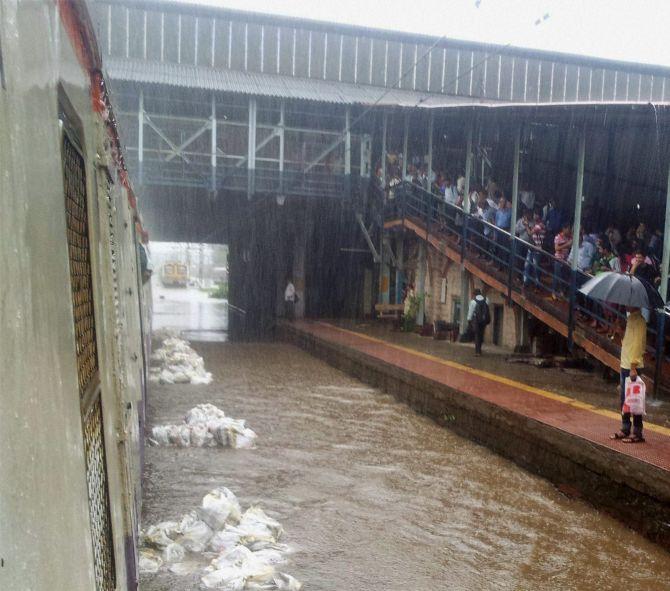 A view of waterlogged railway track at Sion station of CR after overnight incessant rains in Mumbai on Tuesday. Photograph: PTI Photo
Low-lying areas like Kurla,Chembur, Tilak Nagar, Andheri, Parel and Lower Parel as well as parts of the neighbouring Thane, Navi Mumbai and Raigad suffered water logging.
In Palghar district, schools were closed for the day as heavy rains lashed the area since last evening, officials said.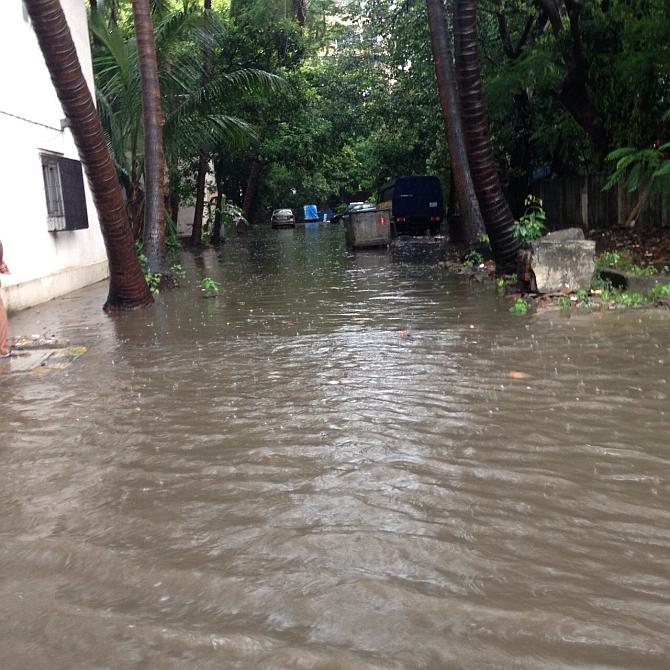 Shubir Rishi sent us this photograph of a waterlogged street in Santacruz
The Western Railway's suburban services were affected between Andheri and Churchgate stations for some time due to a point failure that forced closure of two tracks while train movement on the Central line was suspended for sometime as tracks on some stretches were submerged due to the heavy downpour.
"Soon after point failure was reported, our staff swung into action and it was corrected and services were restored immediately," Western Railway's chief PRO Sharat Chandrayan said.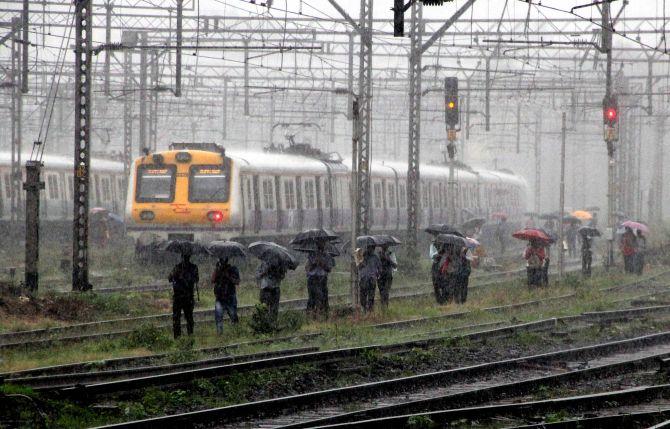 Commuters are forced to walk across the tracks after train services faltered due to the incessant showers. Photograph: Sahil Salvi
A few services were cancelled as soil beneath the tracks washed away between Palghar and Boisar stretch that led to the closing down of one of the rail tracks.
The suburban trains services were suspended for nearly 10 minutes at around 10.15 am between Kurla and CST due to submergence of tracks between Sion and Kurla, according to a statement by the Central Railway.
CR's chief PRO Narendra Patil said, "There were few cancellations in the morning as few stretches got submerged, but services were restored by the afternoon. However, trains were running late by 15 to 20 minutes," he said.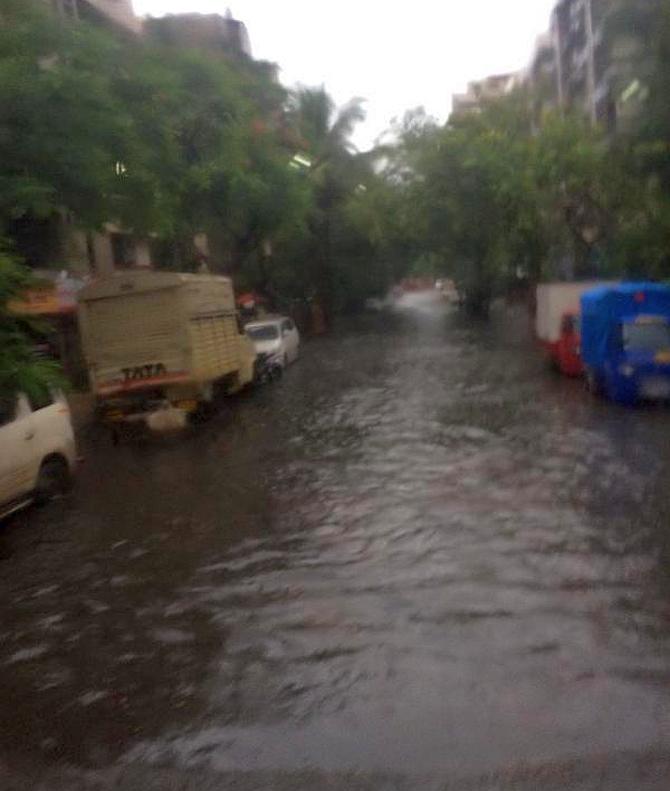 Shreyas Deshmukh/Twitter: A waterlogging street in Dahisar East, Anand Nagar
During the last 24 hours, Colaba in south Mumbai received 15.8 mm rainfall while Santacruz weather station recorded 61 mm downpour.
"We are having good to very good clouding at the offshores and expect good rainfall in next 48 hours," India Metereological Department's Mumbai centre's director V K Rajiv said.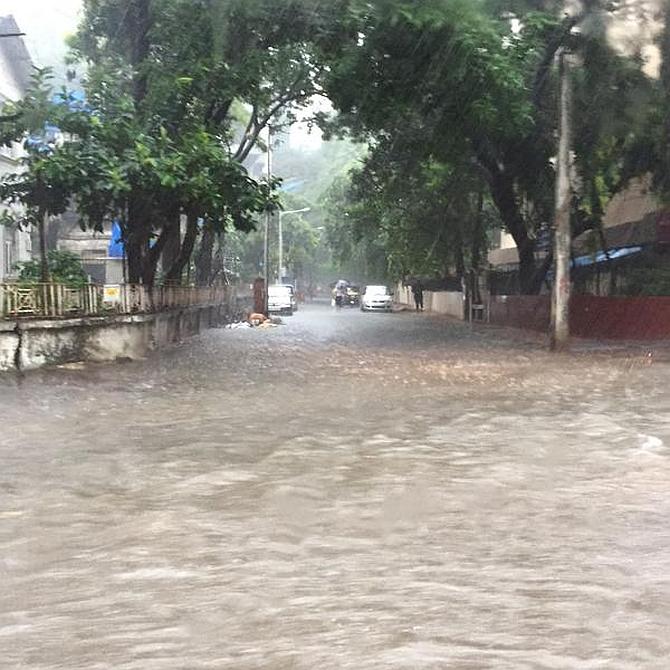 Soumit Naik/Twitter: A waterlogged locality in Mumbai.
The meteorological department has issued a high tide warning. The high tide is expected at 3.40 pm and is likely to be 3.98 m high.
Apart from Mumbai, the neighbouring Thane district received 143 mm rain in the last 24 hrs while Thane city alone got 85 mm downpour. Besides, Kalyan recorded 195 mm rain, Bhiwandi 195 mm, Shahapur 138 mm, Ulhasnagar 150 mm, Ambernath 142 mm and Murbad 98.50 mm, according to official figures.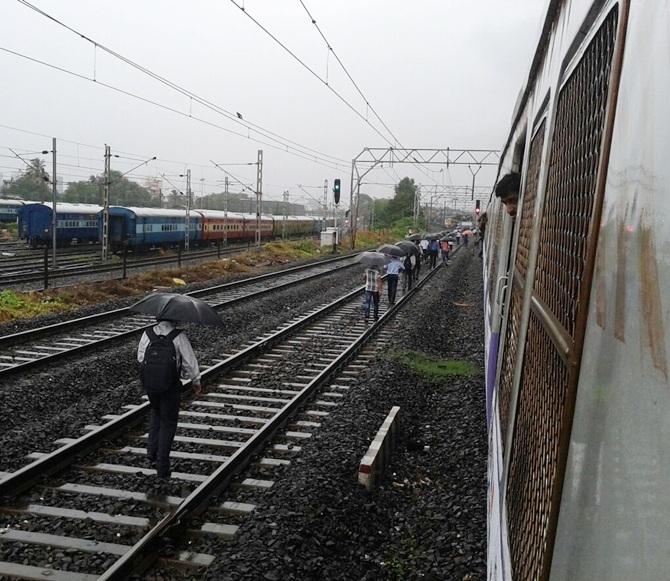 Avtar Singh Negi sent us this photo of commuters walking along the tracks in Khar after Western line train services were suspended.
Due to heavy rains and breaches between Palghar and Boisar, five Express trains of Western Railway scheduled to leave Mumbai this morning were cancelled.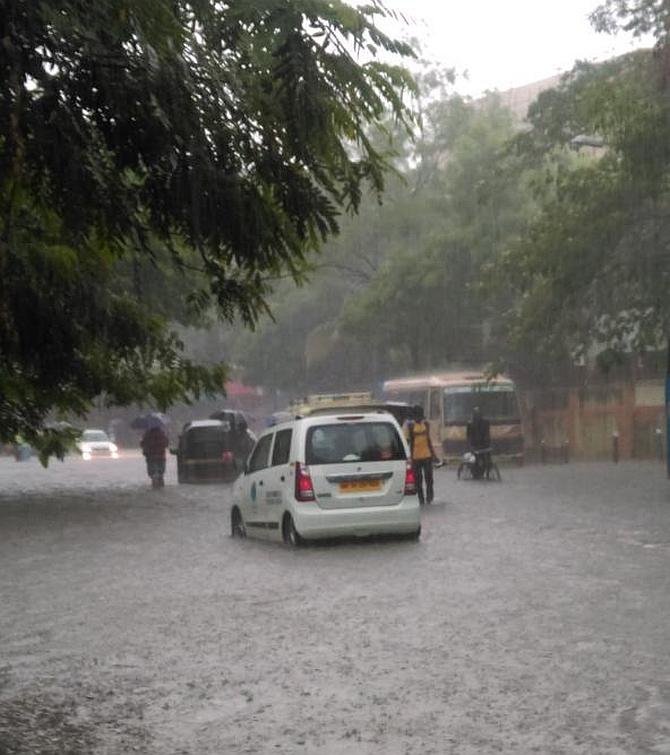 Gaurav Kulkarni/Twitter: A waterlogged street in Kurla East
The cancelled trains are Ahmedabad Express, Bandra-Surat Inter-city Express, Mumbai Central-Ahmedabad Shatabdi Express, Mumbai Central-Porbundar Express and Bandra Terminus-Vapi passenger train.
Meanwhile, Palghar District Collector Abhijit Bhangar declared a holiday in schools and other educational institutions in the taluka on account of heavy rains.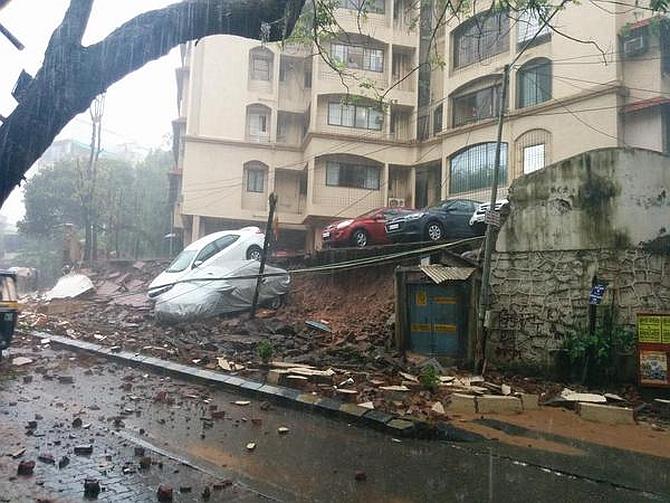 Angad Chowdhry/Twitter: A wall collapsed causing cars to tumble down. Opposite 'Out Of The Blue' in Bandra.
In Thane city, a portion of a wall of garden crashed on a vehicle, regional disaster management control room chief Santosh Kadam said, adding that there were no reports of any injuries.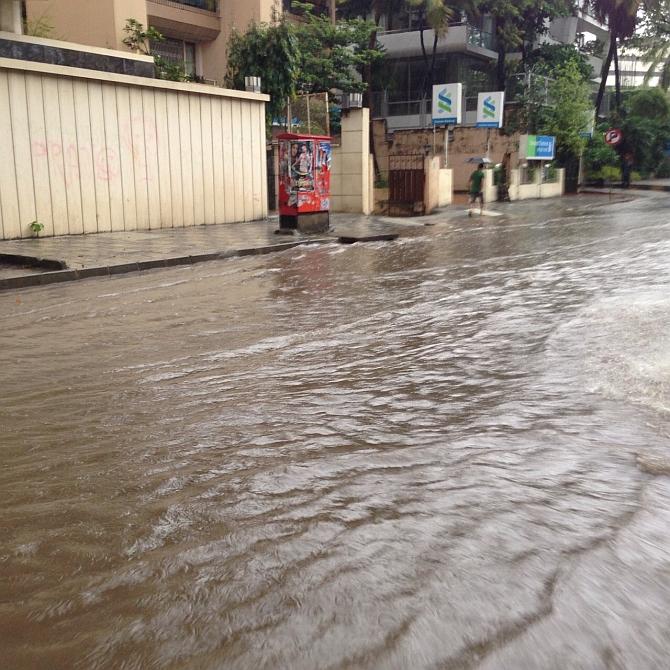 Shubir Rishi sent us this photograph of a waterlogged road in Juhu.
The soil support for tracks on down line (towards Gujarat) was washed away due to heavy rains at Palghar in the last 12 hours, thus severely affecting movement of trains towards Gujarat since the early hours on Tuesday.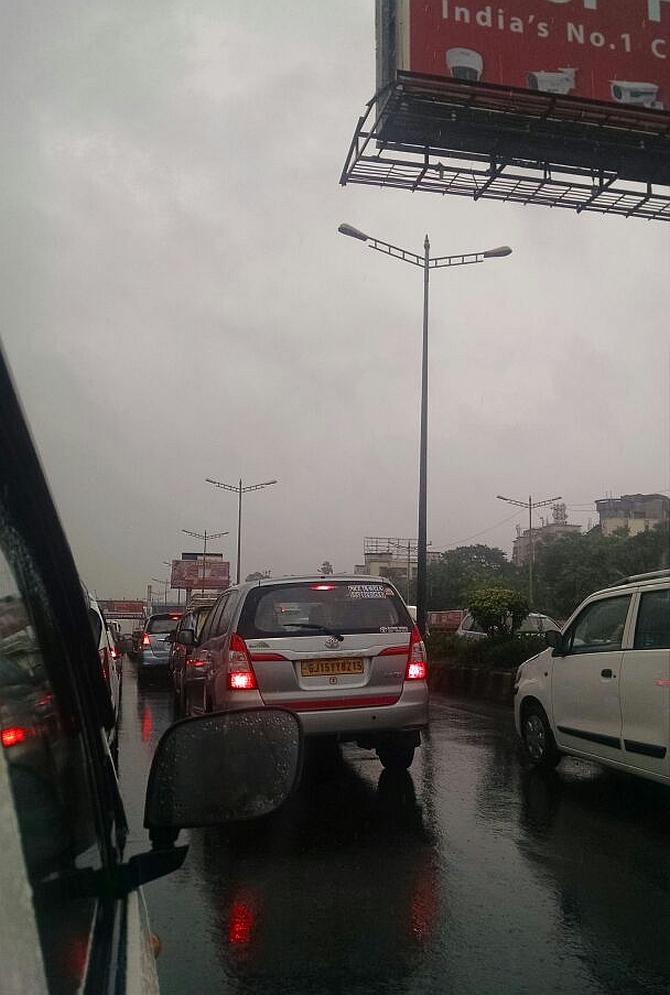 Gauri Ghadi sent us this photograph of a traffic jam on the Western Express Highway.
Have a photograph to share on how the rains have hit Mumbai? Share them with us. Upload Your Photos Below.