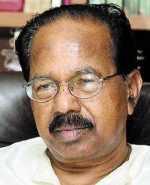 After External Affairs Minister S M Krishna, another Union minister from Karnataka has written to Prime Minister Manmohan Singh demanding a review of the decision of the Cauvery River Authority asking the state to provide Tamil Nadu with 9,000 cusecs of water daily.
Corporate Affairs Minister M Veerappa Moily met the PM on Wednesday to demand a review of the CRA. He also wrote to Dr Singh requesting him to reconvene the CRA, chaired by him, so that the earlier directive to Karnataka over sharing of Cauvery water can be reviewed.
"The southwest monsoon has withdrawn...the inflow at Kabini and KRS dams have sharply depleted. In contrast, the northwest monsoon has set in which will benefit solely Tamil Nadu...the farmers of the Cauvery Basin of Karnataka have already been put to irreparable hardship and have become restless," he wrote.
His letter comes a day before the Cauvery monitoring committee met in New Delhi to decide on the flow of water from Karnataka to Tamil Nadu after October 15.
The CRA had directed Karnataka to release 9,000 cusecs of water daily to Tamil Nadu between September 20 and October 15.
If the committee, comprising Union water resources secretary and the chief secretaries of Tamil Nadu, Karnataka, Pudducherry and Kerala, fails to reach a consensus, the issue would be referred back to the CRA. A seven-day notice period is required to convene the CRA.  
Last week, External Affairs Minister S M Krishna had written to the PM requesting him to stop further release of water to Tamil Nadu and seek a report from the team that has been deputed to assess the water situation.
Krishna had said the situation was grim in Cauvery irrigation areas and also in Bangalore following depleted water levels in dams after release of water.