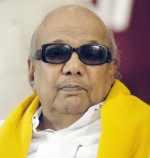 Lambasting the Karnataka government for "stopping" the release of Cauvery water to Tamil Nadu, key United Progressive Alliance ally Dravida Munnetra Kazhagam on virtually demanded imposition of Central rule in the neighbouring state so as to "teach a lesson to stone-hearted" regimes on inter-state issues.
"All I request the prime minister is, (he) should come to a conclusion on using Article 356 (relating to President's rule) against Karnataka to ensure that the people of both the states uphold integrity and sovereignty in a spirit of brotherhood," DMK president M Karunanidhi said in a statement in Chennai.
He, however, hastened to add that his plea was not motivated by any grudge against those in Karnataka but made "with tears to ensure that grain fields in the state do not turn into graveyards" besides "teaching a lesson to stone-hearted states like Karnataka".
This (invoking Art 356) would also demonstrate the authority of the Prime Minister-led Cauvery River Authority, teach a lesson to the Karnataka government which had refused to implement his directive and put an end to "betrayal of one by another in future," Karunanidhi, whose party has been opposed to use of Art 356, said.
Slamming both the incumbent Tamil Nadu and Karnataka governments for the present crisis, Karunanidhi said he as chief minister and his then counterpart B S Yeddyurappa had worked for cordial relations between the two states.
Karnataka had suddenly become "adamant" in not releasing water to his state and adopted "delaying tactics" by not honouring the Cauvery River Authority's ruling, affecting amity between the two states, he said.
"The efforts by those in the Karnataka administration to create permanent enmity between Tamils and Kannadigas by viewing Tamil Nadu people and its farmers as enemies has jeopardised the country's integrity. This is not just regrettable but condemnable," he said.
The Karnataka government was involved in a "non-cooperation agitation," despite Tamil Nadu taking up its case through proper fora including courts, he charged.
He also slammed his archrival and Tamil Nadu Chief Minister J Jayalalithaa when he said that she had earlier boycotted the CRA meetings, dubbing the body as "toothless," which again was instrumental in souring relations between the two states.
Meanwhile, the DMK also asked Prime Minister Manmohan Singh to notify the final award of the Cauvery Water Disputes Tribunal in the gazette without any delay.
DMK Parliamentary Party leader T R Baalu met Dr Singh and submitted a letter asking him to implement the CRA award directing to release 9,000 cusecs of water to Tamil Nadu and also notify the tribunal final award.
In his letter, Baalu charged Karnataka with showing "disregard" for the Tribunal as well as the Supreme Court. "It is now our hope that you act decisively and effectively to protect the amity and harmony of the neighbouring state," Baalu said.
He expressed shock over the Karnataka Congress ministers meeting the prime minister and seeking reversal of the CRA award and questioned whether it was proper for them to remain as Cabinet ministers and advocate "briefs of one particular state.
"Will not the partisan attitude of the ministers of the Union government be detrimental to the principles of national integration" Baalu asked and added that the PM should "advise them from acting in such a manner in future".
Referring to Karunanidhi's demand for invoking Article 356 of the Constitution against Karnataka, Baalu said the former had always "staunchly opposed its invocation against states. However, this extraneous and vexatious situation has brought upon a great and imminent danger to the social fabric of the country," he said.
"It is our sincere hope hat you will not be pushed to take such an extreme step," the DMK leader said.