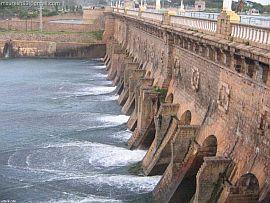 Karnataka has stopped the release of Cauvery water from the Krishna Raja Sagar dam citing depleted storage, hours after Prime Minister Manmohan Singh made it clear only the Cauvery River Authority can review its order directing the state to release 9,000 cusecs to Tamil Nadu.

"As per the direction of Irrigation Department heads, we have closed down the five crest gates through which the water is flowing to Tamil Nadu", KRS chief executive engineer Vijayakumar told media persons in Mandya.

Water was being released from KRS and Kabini dams. Discharge from Kabini had been stopped two days ago, he said.

The water stoppage to Tamil Nadu came after Karnataka said it will file a review petition on Tuesday before Cauvery River Authority headed by the Prime Minister who made known his position to Congress and BJP delegations which met him separately seeking review of CRA's September 19 directive.

The move also came on a day when Karnataka informed the Supreme Court with its counsel Fali Nariman telling the bench, "We will not be able to release anything more. It is physically impossible to release. There is already a surplus of 13,000 cusecs."

The KRS dam top official's announcement came even as Chief Minister Jagadish Shettar said in Delhi that the state would file a review petition before the CRA on Tuesday and demanded that Singh take up the issue immediately.

"... We will meet the Prime Minister on Tuesday and file a review petition (of the CRA order)," he said.

Karnataka has been releasing 9,000 cusecs since September 30 in compliance with a Supreme Court order to honour the CRA directive.

The release of water has triggered sharp protests in Cauvery basin districts and Bengaluru, which largely depends on the inter-state river for its drinking water needs.

The state unit BJP hailed the government decision to halt water release as a "bold initiative".

State unit BJP president K S Eswrappa urged the Union ministers representing Karnataka to mount pressure on the Prime Minister to convene a meeting of the CRA on the basis of central study team report and review the earlier decision.

Dr Singh in his capacity as CRA Chairman had directed Karnataka to release 9,000 cusecs of water to Tamil Nadu till October 15 and Supreme Court had also asked the state to honour the order.

The police have scaled up security in and around KRS and also in Mandya anticipating an order from the Supreme Court on the state's plea for staying the CRA directive, but the apex court adjourned the matter to October 12.

However, the court said there is no impediment in the Prime Minister reviewing his September 19 order on a petition filed by Karnataka before the CRA.

SP Koushalendra Kumar said about 20,000 personnel including Karnataka State Reserve Police, District Armed Reserve, Rapid Action Force and Border Security Force have been deployed in the district to ensure law and order.