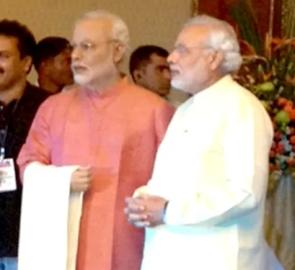 A wax statue of the Bharatiya Janata Party prime ministerial candidate Narendra Modi was unveiled in Mumbai ahead of the 'Mahagarjana rally' he is addressing in suburban Bandra on Sunday afternoon where 10,000 tea vendors have been specially invited.
BJP president Rajnath Singh unveiled the statue before the two leaders proceeded for the rally. Singh posed with the statue, flanked by Modi. The BJP chief even tried to shake hands with the statue.
Senior BJP leader Gopinath Munde said over a million people were expected at the rally, being held at the BKC grounds and billed as a show of strength by BJP workers.
Over 22 trains brought in BJP supporters from across Maharashtra, and the organisers made arrangements to distribute over five lakh food packets, many containing Gujarati snack "thepla".
Around 10,000 tea vendors were among those specially invited for the rally.
"Somebody from the Samajwadi Party said Modi was a tea vendor and a tea vendor cannot become the prime minister. And Modiji had replied, 'Desh bechne walo se chai bechne wale bachche hote hain' (those who sell tea are better than those who sell the country)," Maharashtra BJP unit president Devendra Fadnavis said.
"That created a sense of pride among the tea vendors of Mumbai and they contacted us and we said 'Yes, you come. We will give you a place to sit'," he said.
Senior BJP leader L K Advani and Shiv Sena chief Uddhav Thackeray are not attending the rally.
Image courtesy: Narendra Modi's website