Do you remember that monogrammed suit Prime Minister Narendra Modi wore while meeting United States President Barack Obama in January in New Delhi?
Well, that tailored suit is now the 'most expensive suit sold ever', said the Guinness World Records.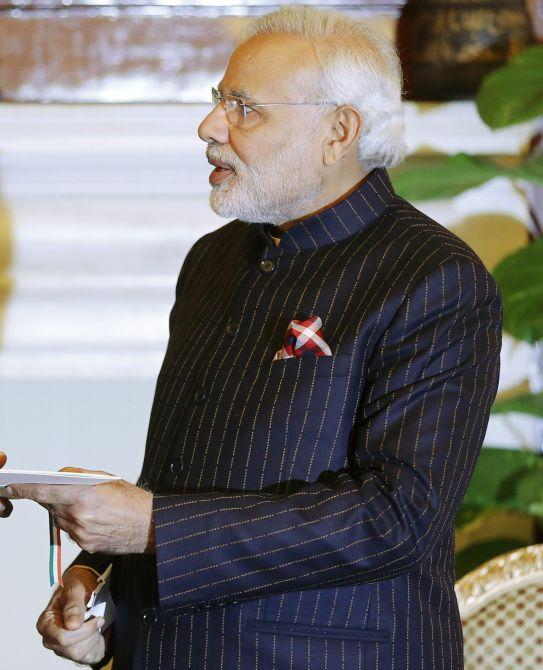 The suit which had Modi's named tailored into it in gold pinstripes was later sold to the highest bidder, Laljibhai Patel, a diamond baron and private airline owner based in Surat, Gujarat for an astounding Rs 4.31 crore.
The Guinness World Records acknowledges the suit as the "most expensive suit (clothing) sold at auction is Rs 43,131,311 and was bought by Laljibhai Tulsibhai Patel (India) in Surat, Gujarat, India on February 20, 2015."
"It is a matter of happiness and pride that the suit has found a place in the Guinness Book of World Records. We had applied for the world record around five months back on the suggestion of our company's HR management team. Within a couple of months, we received a certificate acknowledging that it was the world's most expensive suit sold at an auction," Hitesh Patel, son of Laljibhai, said in Surat on Saturday.
During the auction, the suit was displayed on a lookalike mannequin of Modi behind a glass case. Some bids, including one of Rs five crore, were also received after the deadline, but were disallowed.
The money generated from the auction went for Modi's ambitious 'Clean Ganga Mission'.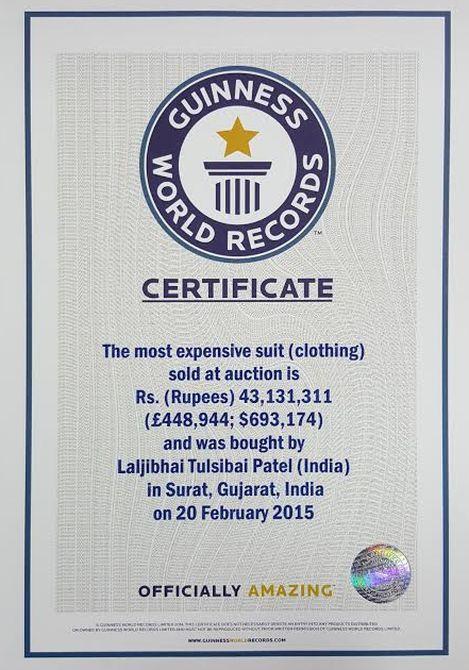 The suit was reportedly prepared at a cost of Rs 10 lakh and was auctioned at a base price of Rs 11 lakh.
The suit, which Modi had worn during Obama's three-day state visit to India in January last year, had kicked up a political row with opposition parties accusing the PM of 'narcissism'.
Congress vice president Rahul Gandhi had latched on it to accuse Modi of heading a "suit-boot ki sarkar" which worked only for the rich.
He also used the suit, whose fabric was claimed to have come from United Kingdom, to attack PM Modi over his 'Make in India' campaign.
Amid the swirling controversy over the suit, a NRI Gujarati businessman Ramesh B Virani had claimed he gifted it to Modi when he had gone to invite him for his son's wedding.
The suit was tailored by 'Jade Blue' in Ahmedabad, a clothing chain that handles Modi's wardrobe.
With PTI inputs