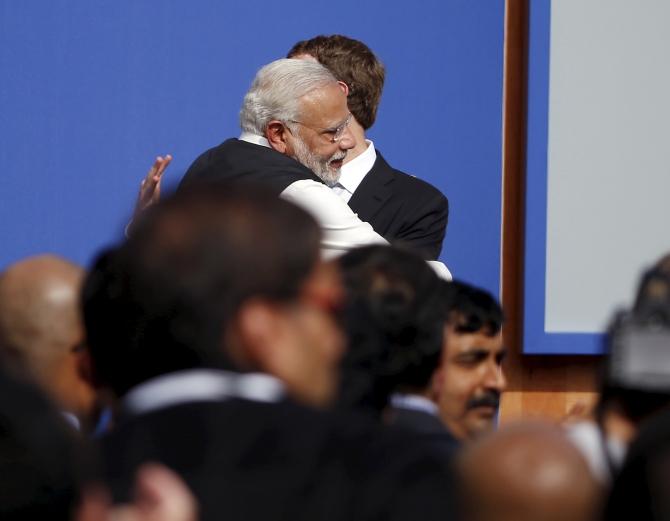 Image: Indian Prime Minister Narendra Modi embraces Facebook CEO Mark Zuckerberg after a town hall at Facebook's headquarters in Menlo Park, California. Photograph: Stephen Lam
Prime Minister Narendra Modi reiterated that the 'Make in India' programme would be a success because of the three Ds namely demographic dividend, democracy and demand during the interactive session at the Facebook headquarters in California on Sunday.
Facebook CEO Mark Zuckerberg, while welcoming Modi to the headquarters, said he considers India a "temple" of knowledge from where he took inspiration to build Facebook more than 10 years back.
He said India needs to be leader online and appreciated Modi for his 'Digital India' campaign.
The Facebook chief said he was personally impressed at how Modi used social media to connect with people directly.The prime minister said he was aspiring to connect 6 lakh villages of the country with optical fibre network in five years as he understands the importance.
"Earlier, humans used to settle along the rivers. Later habitations used to take place along the highways. In future, people will settle down along the places having optical fibre lines," he said.
Modi said, "In the last 15 month, the perception about India has changed. We have regained the lost confidence. This I believe will bring change."
He said when he adopted social media, he never thought that he would one day become the chief minister or prime minister but was just curious to know the world.
"Social media helped me gain information about the world. This brought a big change in my thought process. This connected me with the world and the world accepted me as I am," said Modi while noting that he was not much educated and came from a poor background.
While explaining the benefits of social media, he said, "The government has a problem, there is usually a gulf between government and the people. By the time, you realise that, the five years (term) is over.
"But the power of social media is such that you know about reactions instantly. There is instant voting on decisions because of social media. If some decisions are wrong, they can be corrected. Earlier, it could happen only after five years.
"This is why I tell leaders all around the world, don't run away from social media...Get connected. Good governments run on feedback. For realtime feedback, social media is great help and if a government is alert, it can take corrective measures and speed up work."
Modi said India has to emphasise on two things -- physical and digital infrastructure. "Highways and I-ways are equally important," he said, adding that in view of the situation in India, these could not be done one after another but simultaneously.
Talking about the strength of social media, he said it has played a big role in governance and helped in connecting with people within the country and abroad.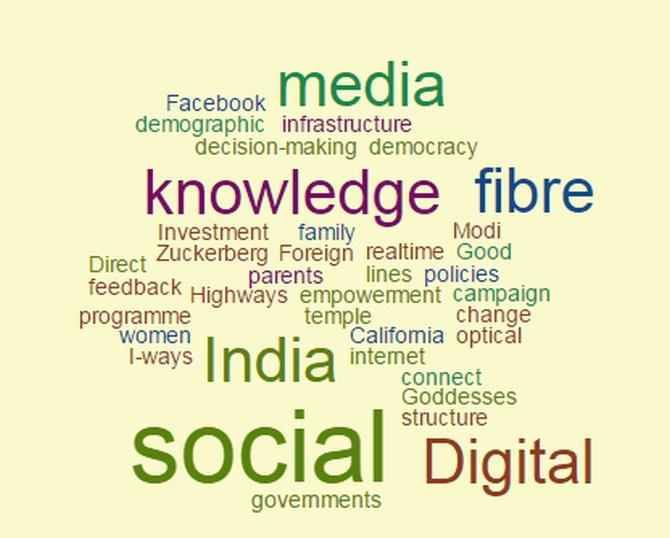 He gave the example of how he connected with people of China through Weibo, its version of Twitter.
"China has a different social media structure. But I am active in Chinese social media. I greeted Chinese prime minister on his birthday. It went viral on Chinese social media," Modi said.
He said he also greeted the Israeli prime minister in Hebrew which too went viral in Israel. "The best fun was, when he responded 'thank you' in Hindi on twitter."
Describing it as "the new face of diplomacy," the prime minister said earlier diplomacy involved connections between capital cities and leaders of different countries. But now through social media, one can connect directly with people of other countries... Social media is a big catalyst of social change."
To a question on status of women, he said India is the only country in the world where women are seen as Goddesses. "It is true that there have been diversion and deterioration," he said, adding his government was working for empowerment of women.
"As far as government is concerned, if we want to achieve our developmental goals, we can't keep 50 percent of our population within four walls. Government policies need to be
proactive. The government is taking steps in that direction," he said.
"For women empowerment, we have to ensure that they have a role in decision-making process," he said.
Zuckerberg asked Modi about his mother while saying that family is very important for both of them and introduced his parents who were present there.
Congratulating Zuckerberg's parents for giving birth to such a genius, Modi got emotional as he said, "I am from a poor family. I used to sell tea at a railway station. No one would have imagined that the world's lagest democracy elected a tea seller as their leader. I salute the people of India."
With choked voice and wet eyes, he continued with pauses: "My father is no longer in this world. My mother is more than 90 years of age. She is illiterate... When we were small, she would clean utensils, do manual labour..."
Modi also talked about the increased Foreign Direct Investment in India, saying it has risen to an average of about 40 percent.
"Currently, given the world's recession, most of the world has -16 percent of FDI and we here are +40 percent. I think this in itself is very indicative of how successful India has been," he said.
He also lauded Zuckerberg for connecting the world.
with inputs from ANI