Modi's remarks assume significance as they come after most pollsters predicted a fractured verdict in the assembly elections, with no party attaining a majority on its own.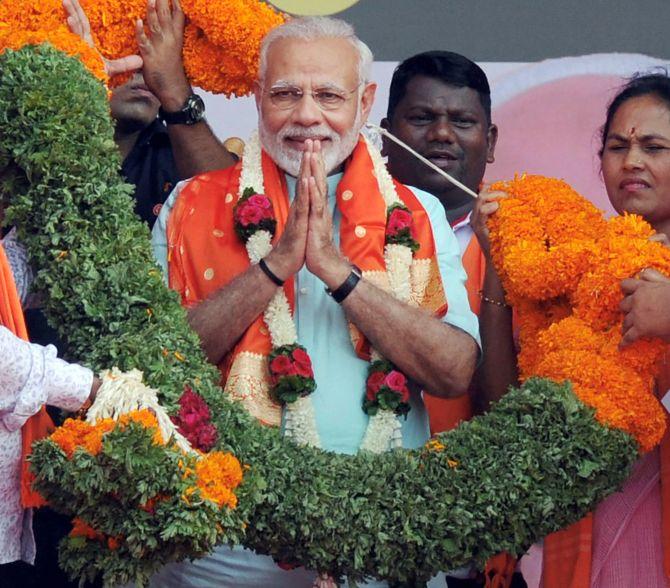 In remarks that raised eyebrows in political circles, Prime Minister Narendra Modi on Tuesday lashed out at Congress president Rahul Gandhi for "insulting" Janata Dal-Secualr supremo H D Deve Gowda, saying it showed his "arrogance".
Showering praise on the former prime minister at an election rally in Udupi in poll-bound Karnataka, Modi said Deve Gowda was one of the most respected and tallest leaders for whom he had great respect.
"But I heard the Congress president speak at political rallies 15-20 days ago....the way he referred to respected Deve Gowda ji....is this your culture (sanskar)? This is arrogance.
"Your life (as Congress chief) has just begun. Deve Gowda is among the tallest leaders of the country. You are insulting him," Modi said.
The prime minister was alluding to Gandhi's speeches at his rallies in JD-S strongholds, where he attacked Deve Gowda,and called his party the "B Team" of the Bharatiya Janata Party.
Modi's remarks assume significance as they come after most pollsters predicted a fractured verdict in the assembly elections, with no party attaining a majority on its own.
JD-S state unit chief H D Kumaraswamy had earlier claimed he would be the king after the polls and not the king maker.
Chief Minister Siddaramaiah has often accused the BJP and the JD-S of having a tacit understanding, and even claimed that Kumaraswamy had met the saffron party chief Amit Shah, a charge dismissed by the JD-S.
His father Deve Gowda, however, told a TV channel that he and his family would disown Kumaraswamy if he joins hands with the BJP.
"You think about it. If his temperament is such... whose arrogance is on cloud seven...it is just the beginning of life...if he is doing this from today, how bad the coming days will be you will get to know from his deeds," Modi said attacking Gandhi.
The prime minister said the Congress party, with such "arrogant" leaders, is a "big threat" to democracy.
He urged the electorate to ensure that Mahatma Gandhi's dream was fulfilled, reminding them of the Father of the Nation's insistence on disbanding the Congress after Independence.
Noting that there would be differences in politics, he said "There is something called decorum in public life. Every person may have his own ego, but in social life there are certain values."
Speaking about the respect he has for the former prime minister, Modi referred to Deve Gowda as "the son of this land, and a farmer's son".
"Whenever he comes to meet me in Delhi, I make it a point to receive him at the entrance of my home...open the door of the car for him. I also see him off up to his car," he said.
Modi said he does that in spite of the fact that their ideologies are different and Deve Gowda's party votes against his government in Parliament.
Reacting to the prime minister's comments regarding Gowda, Chief Minister Siddaramaiah said this showed there is an internal agreement between the BJP and the JD-S ahead of the polls.
"The prime minister has showered praise on Deve Gowda, the meaning of this is they both have entered into an internal agreement," he said.
"A JDS candidate contesting against me in Chamundeshwari has given an open statement that wherever the BJP is strong there the JDS will support and wherever the JDS is strong, there the BJP will support....what more proof do you want?"
Hitting out at the prime minister, the Karnataka Congress, in a tweet, said "Modi ji, please do ask your 'guru' Shri L K Advani the 'respect' you have meted out to him. We are sure that he will swell with pride."