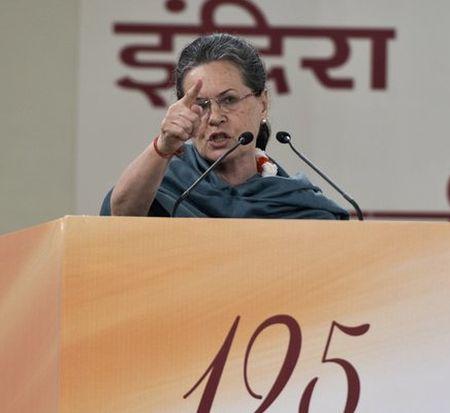 Congress chief Sonia Gandhi on Saturday ripped into the Narendra Modi government, saying it was using development as a buzzword to mask its communal agenda and people were being viciously attacked for holding different beliefs in the "prevalent atmosphere of intolerance".
Gandhi also took on Rashtriya Swayamsevak without naming it, saying it actively opposed Mahatma Gandhi's 'Quit India' call in 1942 along with another group which was responsible for partition, a reference to Muslim League, and "so called nationalists" nowadays go around giving certificates on patriotism.
Speaking at the culmination of the year-long 125th birth anniversary celebrations of Jawaharlal Nehru, she said the first prime minister believed in a frank exchange of ideas when any citizen could speak his 'Mann ki Baat', which has now been "reduced" to a radio broadcast.
She was taking an apparent swipe at Prime Minister Modi's regular radio programme in which he speaks on a host issues.
"In a day and age where people are viciously attacked for holding different beliefs, it is important to remember this. Simply because someone holds a different view or disagrees then they cannot be branded a traitor. This is neither the way of our democracy nor a form of patriotism. It is a form of tyranny.
"Today, we are witnessing attempts by certain individuals and elements to whitewash their communal agenda in front of the world by hiding it behind the mask of development. Development is used as a buzzword, again and again," she said.
Referring to the decision of a host of intellectuals to return their awards to protest against the climate of intolerance, Gandhi noted that Nehru as the first Sahitya Academy president had said that his first duty was to protect it from the interference of the Prime Minister.
"He (Nehru) did this with the objective of fostering a love for art and human values, to help carry out research and propagate a scientific temper, to preserve our culture and diverse ethos. But today these institutions are reduced to a joke. But who will protect the academies and institutions of today?" she said.
Attacking Modi, Congress vice president Rahul Gandhi said when he is abroad, he says India is tolerant and government wants to take all sections together but he says nothing of this sort when he is in India.
"Prime Minister is silent when Dalit children are killed in Haryana or when someone is killed in the name of religion in Dadri," he said.
Former Prime Minister Manmohan Singh said there are some forces in the country which want to spread confusion about Nehru's role in building new India.
"They will not succeed. For some time again, some communal forces are out to pit one community against the other. If these forces succeed, there will be a threat to the unity integrity of the nation and its democracy," he said.