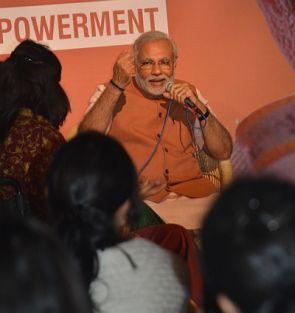 Bharatiya Janata Party is making hectic preparations ahead of the visit by BJP prime ministerial candidate Narendra Modi, who will undertake a "grand road show" before filing his nomination on Thursday for the mega battle in this holy city where he is challenged by AAP leader Arvind Kejriwal and others.
Modi's campaign managers said lakhs of people are expected to participate in the two km-long road show from Nadesar to Kacheri locality in the heart of the city during which a number of leading local organisations will greet him.
He will also pay tribute to four doyens- Sardar Patel, Vivekananda, B R Ambedkar and Madan Mohan Malvya- before filing nomination, in-charge of BJP's campaign in Varanasi Ashok Dhawan told PTI.
Though invited all sections of people to the road show, the party has specifically requested the citizens from Punjab, Gujarat, Maharashtra, Tamil Nadu and West Bengal, residing here, to come in their traditional attire.
"They have been requested to come in their traditional attire so that a mini-India can be presented in the road show," said Navratan Rathi, a BJP leader who is coordinating arrangements.
Modi will arrive at Lal Bahadur Shastri airport on Thursday morning from where he will go to Benaras Hindu University campus by helicopter to pay tribute to Pandit Madan Mohan Malvya at his statue in the Lanka crossing, said Rathi.
Then he will go to Mahatma Gandhi Kashi Vidyapeeth, one of the premier educational institutions here, where he will garland the statute of Sardar Ballabh Bhai Patel and start his road show.
The Gujarat chief minister has been highlighting contribution of Patel to attack Congress and had laid the foundation stone for a huge statue of Patel last year in Kevadia area of Gujarat.
Rathi said Modi will also pay tribute to Vivekanada and Amebdkar at their statues in the Cantonment area and Collectorate Square respectively, Rathi said.
Another function has been organised where the Gujarat chief minister will be offered blessings by over 100 priests.
BJP units in all the 90 wards in the city have been told to carry out procession from their respective wards to reach the venue of the road show.
"The road show will create a significant momentum for Modiji in the constituency," said another BJP leader. He said around 1,000 prominent people from Muslim community have been invited to the road show.
The constituency has around 1.5 lakh Muslim voters and they could play a key role in the electoral outcome in the constituency.
He said 2,000 BJP workers have been tasked to ensure an incident-free road show.
Rathi said a number of traders' association have decided to close their shops during the course of road show so that the business community can participate in the event.
The party has appealed to all walks of people to participate in the road show and make it a "grand success".
In 2009 Lok Sabha election, senior BJP leader Murli Manohar Joshi had won the seat defeating gangster-cum-politician Mukhtar Ansari by a margin of 17,000 votes.
Ansari, who is known to have a strong support base among Muslims, has decided not to contest against Modi from the seat "to avoid division of secular votes".
Congress has fielded Ajay Rai, a Varanasi local, who is an MLA from Pindra assembly constituency. Samajwadi Party's Kailash Chaurasiya is also a sitting MLA from nearby Mirzapur.
Both Rai and Chaurasiya have already filed their nominations.
The entry of Modi and Kejriwal has escalated the political temperature in the seat turning it to be one of the most keenly watched contest in the 2014 Lok Sabha polls.
The administration has already stepped up security ahead of filing of nomination by Modi. Additional security force has been deployed across the city.
Sources said a high-level police team from Gujarat has been coordinating with local administration to ensure fool-proof security for Modi.
They said a number of top police officials of Uttar Pradesh administration are reviewing the security aspect. Thursday is the last day of filing of nomination for Varanasi constituency where election will be held on May 12.