India on Thursday said it is expecting several deliverables to come out of the Quad summit in the Japanese city of Hiroshima that will be attended by Prime Minister Narendra Modi, US President Joe Biden and their counterparts from Japan and Australia.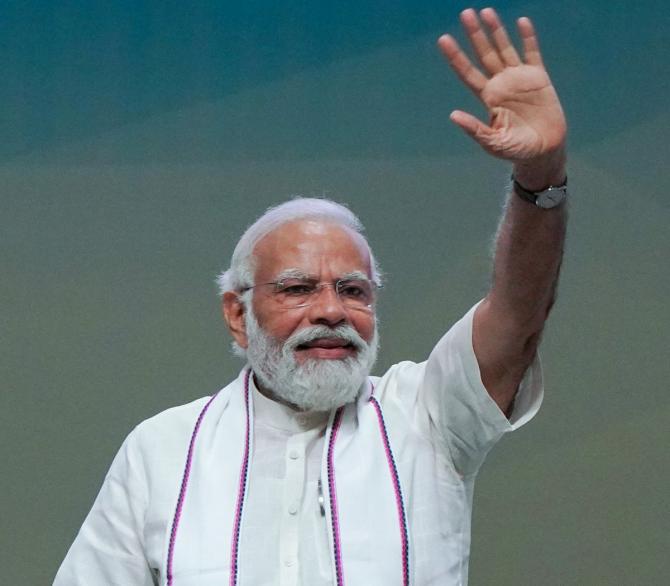 Modi will embark on a six-day visit of Japan, Papua New Guinea and Australia on Friday to attend three key multilateral summits including that of the Group of Seven (G7) and the Quad.
Prime Minister Modi's three-nation tour will be a hectic one as over 40 engagements have been lined up, officials said, adding that he will interact with over two dozen world leaders in summits as well as through bilateral meetings.
In the first leg of his trip, Modi will visit Hiroshima from May 19 to 21 primarily for the annual summit of the G7 advanced economies in which he is expected to speak on challenges facing the globe including food, fertiliser and energy security.
From Japan, Modi will travel to Port Moresby in Papua New Guinea where he will host the third summit of the Forum for India-Pacific Islands Cooperation (FIPIC) on May 22 jointly with Prime Minister James Marape.
In the third and final leg of the trip, Modi will visit Australia, where he will hold talks with his counterpart Anthony Albanese and address a diaspora event on May 23.
The Quad summit was originally scheduled to be held in Sydney but it will now take place in Hiroshima as Biden postponed his visit to Australia to focus on crucial debt-ceiling talks in Washington.
"There are several deliverables which we are expecting to come out of it and I think all that would be showcased when the four leaders meet in Hiroshima," Foreign Secretary Vinay Kwatra said at a media briefing without elaborating.
Asked whether it will be a regular summit of the Quad at Hiroshima or just a meeting, he said, "When the four Quad leaders meet, it is a Quad summit."
The foreign secretary said India's regular participation at the G7 summits clearly points to increasing recognition that it should be a part of any serious effort to resolve global challenges including those of peace, security and development.
"This is even salient in the context of our ongoing presidency of the G20 and our particular efforts to prioritise the interests and concerns of our fellow members of the global south," he said.
Japan is hosting the G7 summit in its capacity as the current chair of the powerful grouping. Modi is travelling to that country at the invitation of Japanese Prime Minister Kishida Fumio.
The broad agenda of the G7 summit will revolve around nuclear disarmament, economic resilience, economic security, regional issues, climate change, energy security, food and health.
Kwatra said India's participation at the summit would be structured around two formal sessions on May 20 and another one on May 21.
The first session would be on food, health, development and gender equality, the second one will be on climate, energy and environment while the third session would be on the theme 'peaceful stable and prosperous world'.
To a question on India's position on the Ukraine conflict, Kwatra referred to Modi's message to Russian President Vladimir Putin that it is not an era of war during a bilateral meeting in the Uzbek city of Samarkand in September last year.
Modi clearly said this is not an era of war and the resolution of the conflict has to be through dialogue and diplomacy, Kwatra recalled.
"That is the fundamental anchor on which our political positioning and the pursuit of our economic interests and other interests is based insofar as this conflict is concerned," he said.
The foreign secretary said Modi will inaugurate a bust of Mahatma Gandhi in Hiroshima.
He said the prime minister will also hold bilateral meetings with several leaders on the sidelines of the G7 summit in Hiroshima. He, however, said the details of the meetings are being worked out.
To a question, Kwatra indicated that the prime minister may raise incidents of attacks on Indians in Australia during his talks with his Australian counterpart.
Separately, officials said Modi will address over thousands of members of the Indian diaspora in Sydney along with Albanese.
The event will have a lot of elements from culture to commerce and diaspora to diplomacy.