Prime Minister Narendra Modi said on Monday that India has succeeded in convincing the world about the "face of terrorism" and hence not a single nation questioned the country's major decision to conduct surgical strikes against terrorist launchpads on Pakistani soil.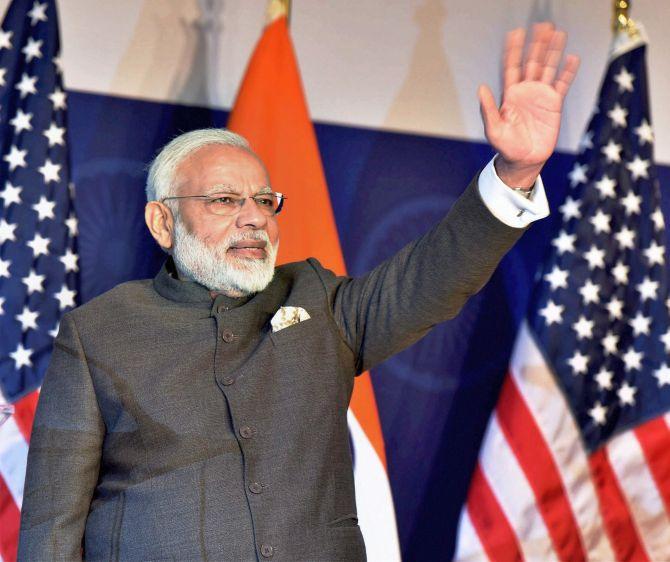 "When we talked of terrorism 20 years back, many in the world said it was a law and order problem and didn't understand it. Now terrorists have explained terrorism to them so we don't have to," Modi said, referring to the increasing number of deadly terrorist attacks around the globe.
Addressing the nearly 600 Indian-Americans at a reception organised for him in Virginia, a suburb of Washington DC, he said the Indian Army's surgical strikes against terror training camps in Pakistan-occupied Kashmir on September 29 demonstrated that India can defend its sovereignty and ensure its security whenever required.
The surgical strikes were launched as a response to an attack by Pakistan-based terrorists on an Indian Army base in Kashmir's Uri in which 19 Indian soldiers lost their lives.
"When India carried out the surgical strikes, the world realised our strength and saw that while we exercise restraint, when the need arises, India can also show its
strength and might in dealing with terror and protecting itself," he said to thunderous applause from the audience.
The prime minister said the world could have put India in the dock for launching the strikes. "But for the first time, not one nation in the world raised a single question, about India's major step to conduct the surgical strikes against terror camps on Pakistani soil."
"It is a different matter for those who had to suffer due to the surgical strikes," he said, taking a jibe at Pakistan.
India has been successful in convincing the world about the "face of terrorism" and that it was "destroying peace and normal life", Modi said ahead of his first meeting with US President Donald Trump, who had reportedly offered to mediate between India and Pakistan on the Kashmir issue drawing sharp reactions from New Delhi.
India has maintained that the Kashmir issue between Islamabad and New Delhi should be resolved bilaterally, without the interference from any third party.
Modi had some choice barbs for China, which of late has appeared to overcome its differences with the Trump administration over trade disputes and North Korea's nuclear ambitions. Trump had previously called Beijing a "currency manipulator" and threatened to launch a trade war with the communist giant.
The prime minister said India does not believe in disturbing the global order to achieve its goals. "This is India's tradition and culture," he underlined, apparently referring to China's growing assertiveness in the resource-rich South China Sea, where Beijing has territorial disputes with its neighbours Brunei, Malaysia, the Philippines, Taiwan and Vietnam.
"We are bound by international law because that is our character and nature. For us the concept of 'Vasudhaiva Kutumbakam' - the world is one family - are not just words. This is our nature and character," he said.
Modi said India, while following international laws and norms, is also capable of taking the "toughest of steps for our sovereignty, security, peace, our people and progress".
"Whenever the need arises we have done it and the world will never be able to stop us," he told the gathering.
Modi's addresses to the Indian community during his visits overseas have been increasingly seen as an effort to court diaspora Indians by eulogising their links to their roots and their contributions to the country they have made their home.
As part of that outreach, Modi praised his External Affairs Minister Sushma Swaraj, saying she and her ministry have effectively used social media to deliver good governance and help Indians in distress in every corner of the world.
"Social media has become very powerful. I am also connected with it. But the external affairs ministry and Sushma Swaraj have set the best example of how a department can be strengthened through its use," he said.
"If any Indian in distress tweets from anywhere in the world to the External Affairs Ministry, even at two in the night, within 15 minutes Sushma Swaraj replies to it, the
government takes prompt action and delivers results," he said.
He said the Indian government has been able to safely bring home more than 80,000 citizens - facing trouble in different parts of the world.
Modi also referred to the episode of Uzma Ahmad, who was stuck in Pakistan for months after she said she was forced to marry a man at gun point in that country. "A daughter of India, who landed in distress in Pakistan, returned to India through efforts of Indian high commission. Sushma Ji deserves credit for this," Modi said.
There were several rounds of applause from the audience during Modi's nearly 50-minute speech. The attendees appeared optimistic about the future of India and its ties with the US.
Modi "correctly believes that the Indian diaspora can make a big difference between US and India relations," Sudhir Parikh, a medical doctor and long time community leader, said.
Parikh said he expects Trump and Modi to discuss bilateral defence deals, the H1B visa, other immigration issues and the historic Paris climate deal.
Photograph: PTI Photo