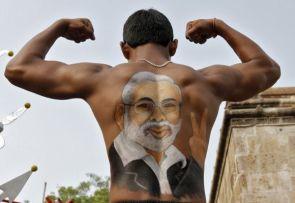 As senior Bharatiya Janata Party leader L K Advani chose to skip the national executive meet in Goa, a group of Narendra Modi supporters Saturday staged a protest outside the residence of the party veteran for "opposing" greater role for the Gujarat chief minister.
A handful of protesters holding a banner 'Narendra Modi's Army' shouted pro-Modi slogans outside Advani's 30-Prithviraj Road Saturday afternoon.
Holding placards like 'Narendra Modi Zindabad' and 'Bring Modi as Prime Minister', the protesters demanded that Advani should step aside and allow Modi to assume a greater role.
"We have come here because we want Advani to step aside and let Modi come forward. Advani should have announced Modi's candidature for prime ministership in Goa but he did not do that," one of the protesters said.


Another protester said, "Our main demand is that Modi should be declared as the prime ministerial candidate. That's why we are protesting here."
85-year-old Advani chose to stay away from the Goa meet, perhaps for the first time in the party's history, apparently to express his opposition to making Modi the campaign committee chief, which will in effect present him as the face of the party for the next general elections.
Image: Amit Dave/Reuters