'I am sure Amma's soul is watching over Tamil Nadu and blessing it,' Modi said, and was met with a thunderous applause.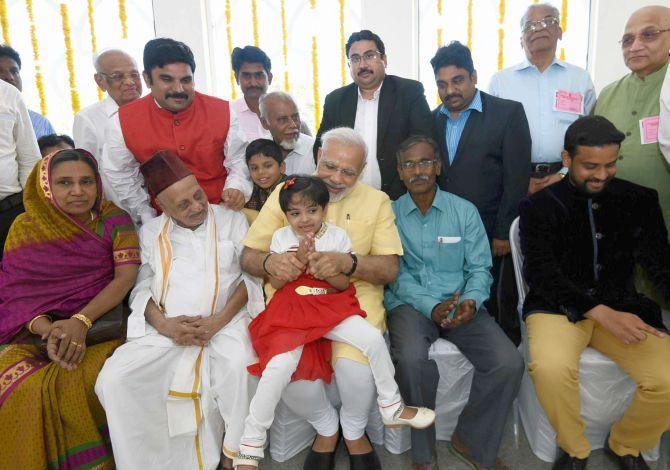 IMAGE: Prime Minister Narendra Modi interacts with the family members of President APJ Abdul Kalam during the inauguration. Photograph: PIB.
Prime Minister Narendra Modi, who was in Rameswaram, Tamil Nadu, on Thursday to inaugurate a museum dedicated to the late President APJ Abdul Kalam on his second death anniversary, pressed all the right buttons.
Unlike the predictable 'Vanakkam' resorted to by north Indian leaders when they visited the state, Modi opened his speech with a full sentence in Tamil: "Naan indha punniyabhoomi Rameswarathirku vandhullein (I have come to this holy land of Rameswaram)," and the organized crowd of about 5000 erupted in appreciation.
The Kalam museum is in Pei Karumbu, on the island of Rameswaram where the people's President was buried two years back while Modi's public meeting was held near the Mandapam camp on the mainland.
Modi recollected that Swami Vivekananda had visited and meditated in Rameswaram, as he had done in nearby Kanyakumari. Rameswaram was important to Lord Ram, as was Ayodhya, so he announced a new weekly train connecting the two pilgrimage sites.
Rameswaram, home of the great APJ Abdul Kalam, was also where the Ramayana says even squirrels helped build the Ram Sethu to Lanka. It showed how very bit helps, and similarly if 125 crore Indians took one step forward it was 125 crore steps forward for the whole country, Modi said.
"I miss Amma (former Tamil Nadu chief minister Jayalalithaa) today. If she was here she would have praised the labourers who worked to complete the Kalam museum within a year. I am sure her soul is watching over Tamil Nadu and blessing it," Modi said, and was met with a thunderous applause.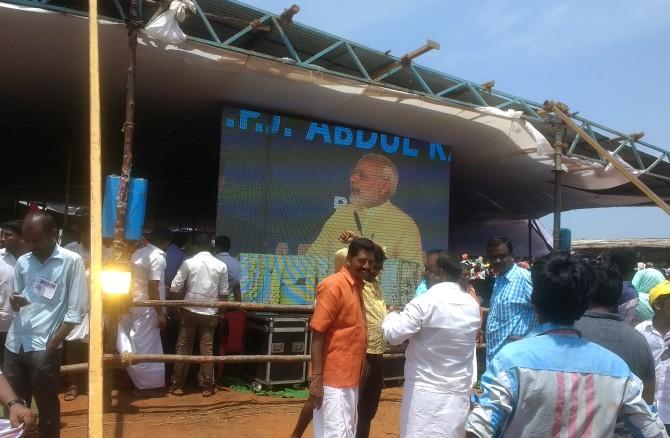 IMAGE: Giant LCD screens were placed around the venue to show Prime Minister Modi's speech. Photograph: A Ganesh Nadar/Rediff.com.
The crowds had been mobilised from Chennai courtesy the BJP's Tamil Nadu president Tamilisai Soundararajan and from Kanyakumari courtesy Union minister and local MP, Pon Radhakrishnan. This was evident from the number plates of the buses and vans parked outside the venue.
Sensing the mood of the crowd Modi did not speak for long, and when he was done the crowds dispersed in an orderly manner, without any shoving or trampling.
That he had struck a chord with the gathering was evident from the remark made by one of them: "Modi is the Amma of Delhi."