Prime Minister Narendra Modi on Wednesday posted his fitness video on Twitter which shows him meditating, walking on a track inspired by five elements of nature, and doing yoga exercises.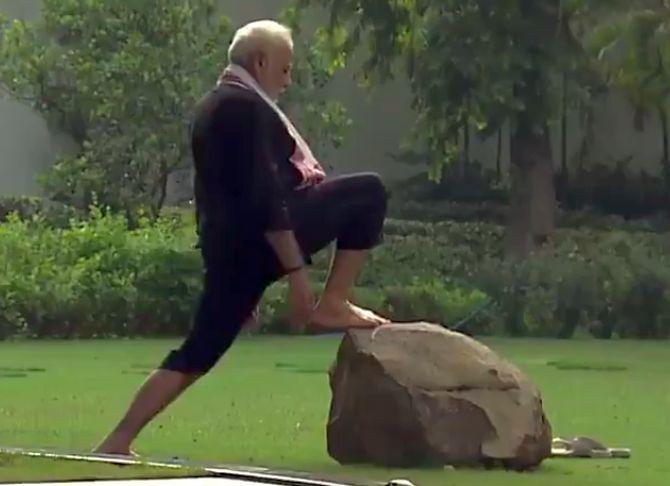 He also passed on the fitness challenge to Karnataka Chief Minister H D Kumaraswamy, table tennis player Manika Batra and IPS officers, especially those above 40 years of age.
WATCH: Modi's fitness video
The prime minister's one-and-a-half minute video comes nearly a month after he accepted the fitness challenge thrown by Indian cricket team skipper Virat Kohli.
Modi had then replied on Twitter that he will soon upload his fitness video.
"Challenge accepted, Virat! I will be sharing my own #FitnessChallenge video soon," the PM had written in May in reply to Kohli's challenge.
While posting the video on Wednesday morning, Modi said, "Apart from Yoga, I walk on a track inspired by the Panchtatvas or five elements of nature - Prithvi, Jal, Agni, Vayu, Aakash. This is extremely refreshing and rejuvenating. I also practice breathing exercises."
Wearing a black jogging dress, Modi is seen walking on a track created around a tree, doing stretching exercise and sitting on a rock for meditation.
He is also seen balancing himself while walking on a narrow, circular track.
More concerned about developing state's fitness: HDK to PM
Responding to the fitness challenge from Prime Minister Narendra Modi, Karnataka Chief Minister H D Kumaraswamy said he was more concerned about "developing fitness" of the state and sought his support for it.
"Dear @narendramodi ji I am honoured & thank U very much for d concern about my health I believe physical fitness is imptnt for all & supportd cause," (sic) Kumaraswamy said in a tweet on his official Twitter handle @CMofKarnataka.
"Yoga-treadmill r part of my daily workout regime. Yet, I am more concerned about devlpment fitness of my state & seek ur support for it," he said.
Kumaraswamy had undergone heart-related surgery twice, first in 2007 and then last year too.
The Karnataka CM on Monday had said that concerned over his health, his father and former Prime Minister H D Deve Gowda had asked someone from the Congress party to take up the top post in the coalition government.