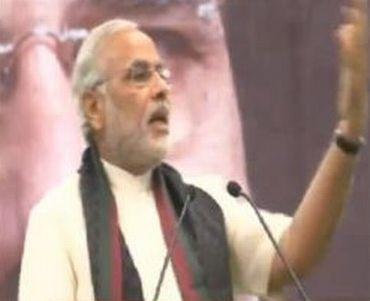 Asserting that there is an overwhelming feeling of pessimism in India, Gujarat Chief Minister Narendra Modi on Wednesday said the biggest challenge is to use human resources to its full potential.
Lauding good governance in Gujarat, Modi urged the youth to make proper use of opportunity. "Even after 60 years of independence, India is still worried about getting 'swaraj'. If we want to make a place in the global bandwagon of progress, swaraj should be the focus. By swaraj, I mean good governance. By good governance I mean pro-people pro government," Modi told the students at DelhiUniversity's prestigious Shri Ram College of Commerce.
"Today there is an atmosphere of hopelessness. Everyone thinks they want to run away. This is my fourth term as chief minister of Gujarat, and from that experience I know that even with the present set up, we can make progress and achieve much more. I am a very positive man, I believe that we can change the situation," he added.
Modi further said, "In spite of being a young country we are being unable to use the opportunities we have".
"We are not a poor country. We are rich in natural resources. We are not using our resources properly. Our challenge is to use them fully. We have huge natural resources, but we have been unable to exploit them," said Modi.
"We have developed our state on three pillars: agricultural, industry and service sector. Even if one pillar fails, the other two can support the economy of the state. The state, which spent years in water scarcity, is now creating history with surplus agriculture. My Vibrant Gujarat Summit happens once in two years, but every year I hold a farmers' festival," he added, while listing the achievements of the Bharatiya Janata Party government in the state.
In his public address in the national capital after achieving a thumping electoral win in Gujarat in December 2012, Modi also recalled the contributions of Father of the Nation Mahatma Gandhi and Sadar Vallabhai Patel to the Indian freedom struggle.

"I come from the land of Gujarat, from the land of Mahatma Gandhi and Vallabhai Patel. A lot of great men spent their lives in jail to free the country. Two streams of thought influenced our freedom struggle -- non-violence and armed revolution. Many leaders sacrificed a lot for our independence," he said.
Prior to his visit to the prestigious college, Modi faced protests from Left wing students, who openly opposed his Gujarat development model.
The students, who raised slogans of ''Narendra Modi Go Away'', were later baton charged by the police personnel.
Delhi Police has imposed Section 144 in the area.
Modi met Prime Minister Manmohan Singh earlier in the day.
The Gujarat chief minister's visit to the national capital assumes significance in the wake of growing clamour in the BJP that he should be named as the party's 2014 prime ministerial candidate.
Image: Video grab of Narendra Modi addressing students at Delhi University's Shri Ram College of Commerce, on Wednesday