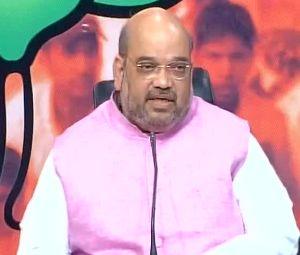 The National Democratic Alliance government is "visible" and pro-active unlike the previous regime, Bharatiya Janata Party chief Amit Shah on Tuesday said, affirming that its one year rule has brought the country out of policy paralysis, ended corruption and trust deficit and restored the dignity of Prime Minister's office.
Listing out a host of initiatives taken in the past year, he said Narendra Modi government has strengthened the federal structure, improved India's position abroad and is committed to bring back the black money as it takes the nation forward on the path of speedy progress.
"This is a visible government unlike the previous regime which would not be seen anywhere. We have also restored the dignity of the Prime Minister's office. This government has come out of policy paralysis. The trust deficit is now over and the world is acknowledging India's progress," the BJP party chief said.
"We had pledged to eliminate corruption and we have provided a corruption-free regime. Our opponents are not able to make any allegation on corruption. I feel this is a big achievement of this government," he said addressing a press conference.
Attacking the Congress, he dared its leaders to present their "zero-loss theory" on allocation of coal and spectrum auctions again before the public, alleging that "United Progressive Alliance has mastered the art of presenting a lie as truth".
Shah also said that whenever there is a Congress government, the country's growth rate has fallen, but it has risen when BJP comes to power. "What has Congress done to stop blackmoney in 60 years of its rule since independence," he questioned and asserted that BJP is committed to taking legal steps to bring back blackmoney.
"No one will be spared and that is why a new law for unaccounted money stashed abroad has been brought by this government. I can assure you that no money will go out of this country henceforth," he said.
He also attacked those who wanted names of unaccounted money in foreign banks to be disclosed and termed them as "counsel" for those who generate black money as disclosing names was in violation of international treaties.
Shah said under the Modi government the federal structure has been strengthened and the prime minister is taking the country towards progress through 'Team India'.
"Despite BJP not having power in several states in eastern India, we worked for the development of the region as promised. This will give strength to the country's federal structure. Modi has put forth a new idea of team India where the Centre and the states are part of the same team," he said.
Lauding the government's performance on the economic front, he said after one year in power, the growth rate has improved to 5.7 per cent as per old parameters. "When Congress comes to power, growth decreases, when BJP comes to power, it increases," he said citing details of growth rate during previous NDA, UPA and the present government.
He claimed the fiscal deficit is under control, trade has grown, foreign exchange reserves were at their highest in 10 years and prices have been brought under control.
Listing out the steps taken to address poverty in the last one year, he said under the Jan Dhan scheme over 15 crore people, especially the poor, have opened bank accounts and were included in the financial system of the country.
He also talked of reduced corruption through direct transfer of subsidies and said opening of MUDRA Bank will help facilitate loans for small businesses. He also talked of the 'Make in India' initiative of the government through which more employment opportunities will be created, increased power production and electrifying every village in the country by 2019.
Shah said UPA "sold" farmers' interests at WTO but NDA protected them by ensuring they get the minimum support price. "The BJP government took a strong stand. We said even if we are not a part of the WTO we will stand with farmers. Today the WTO accepted our terms on MSP. I think there is no better example of political will than this," he said.
The BJP chief said "we have united the security agencies and strengthened internal security of the country". Through his interaction, the PM has increased Indi's global acceptance, he said.
Later, during a rally in Karnal, Shah said it would not allow even a single penny to go out of India and has laid a strong foundation in last one year for development of the country.
He also accused the Congress of not taking any step to tackle the black money menace despite being in power for 60 years and questioned its right in demanding a reply from the BJP.
"No government took even a single step for last 60 years against black money. Modi government is the only government that has taken steps, be it formation of a special investigative team or bringing a new law to prevent black money from going abroad. BJP pledges that not a single penny will go out of the country now," Shah said.
He said the BJP-led NDA government has laid a strong foundation for the country that will help India achieve a respectable position in the world in the next four years.
Addressing a rally to mark the government's first anniversary, Shah said, "This is just a beginning. Modi government has done the work of laying a strong foundation in the country. In the next four years, a grand structure will come up on it. I assure you that at the end of five years this government will ensure a respectable place for India on the world map."