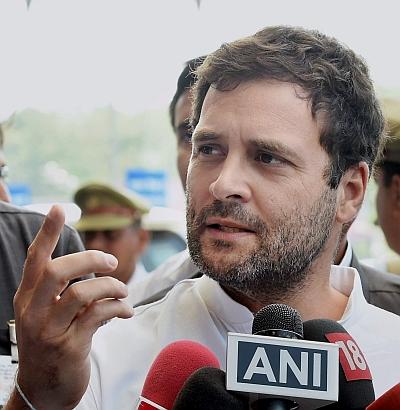 Charging the Narendra Modi government with trying to hurriedly pass the land bill 'due to some reason', Congress leader Rahul Gandhi on Tuesday warned that if the government continued with its policies in this manner, it would not last its full term.
"Modiji promised in his poll speech that the Minimum Support Price will be increased. No such increase took place. All that has been done away with."
"Most important thing is that the land bill is being destroyed and the government is hurriedly trying to pass it due to some reason," he said.
Addressing a massive rally of Youth Congress workers at Kozhikode beach in Kozhikode, the Congress vice president also took a dig at the Modi government saying he wished the 'suit boot ki sarkar', which completed one year in office on Tuesday, a happy birthday.
He said "if they continue in this fashion they will not be able to celebrate their fifth birthday."
"Suit boot ki sarkar is the best definition for the BJP- led NDA government', Gandhi remarked while taking a jibe at the Modi government and said it should stop the 'oratory' and 'start action'.
Countering NDA government's claim of corruption-free governance, Gandhi said the offices of the Information Commissioner and the Central Vigilance Commission were 'headless' and they need to be filled up.
"Unfortunately, birthday celebrations are only for a few powerful friends of the government. Farmers and labourers have nothing to celebrate," he said.
On the prime minister's attire, Gandhi said Modi "seems to have a fascination with clothes and he has been called a fashion icon. That is a good thing."
"But wherever I go, farmers and labourers ask me why PM wears a Rs 10 lakh suit."
Gandhi also hit out at Modi for his frequent foreign trips.