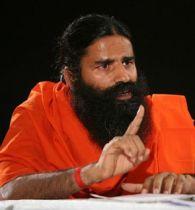 Yoga guru Baba Ramdev dismissed criticism of Gujarat Chief Minister Narendra Modi as a 'communal leader' saying it is only Congress propaganda to corner the BJP leader.
"It would be wrong to call Modi a communal leader...It's Congress's propaganda...They had no other issues to corner him so they have used it," Ramdev, who is in the city to address his supporters told reporters today.
"In our country several incidents and riots have happened in the past under various governments including the Congress...So it would be wrong to call him a murderer," the yoga guru said while referring to the 1984 riots under the Congress rule.
Hailing Modi as the only leader present at the moment with guts and power to fight corrupt and dishonest leaders, Ramdev said, "I have given issue-based support to Modi who is the only leader with guts and power to fight those corrupt and dishonest people."
Ramdev met BJP state president Vasundhara Raje. Though details of the meeting was not known, insiders said they had a discussion on the state's political scenario.
Meanwhile, Ramdev welcomed the Supreme Court's move to bar jailed politicians from contesting elections and also praised Allahabad High Court's decision to ban caste base political rallies saying, both the moves would help cleaning the country's political system.
"Both these decisions would help Indian politics free from criminal elements," he said.
Ramdev said he may file a PIL seeking details of those who have invested money as FDI in different Indian companies.
"I am planning to move a PIL seeking details of share holders who have invested in Indian companies. Major share of black money in the country is as FDI and we should whose money in invested there," he said.