Prime Minister Narendra Modi may "get me killed", Arvind Kejriwal said on Wednesday, in a sensational claim, as the Delhi Chief Minister asked Aam Aadmi Party MLAs to be ready for "ultimate sacrifice" in the wake of "unprecedented crackdown" by the Bharatiya Janata Party government.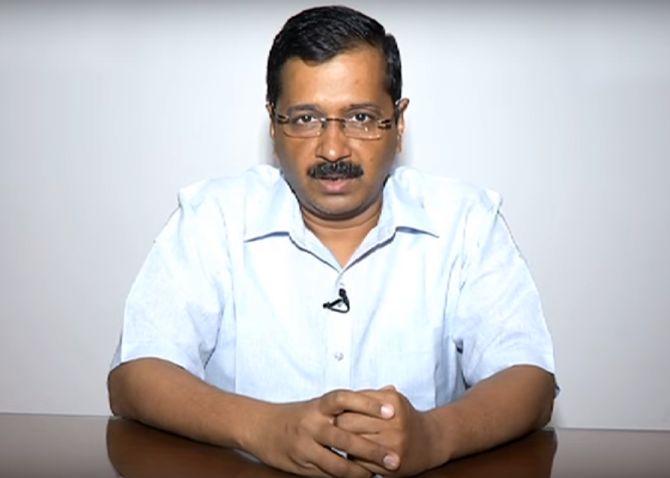 Referring to a series of arrests of AAP MLAs and workers in the last one-and-a-half years, Kejriwal dubbed Modi as the "mastermind" behind the "cycle of oppression" against them and alleged that he was hell bent on "vanquishing" the party.
Accusing Modi of acting in a "perpetual state of rage and anger", the AAP chief wondered if the country was in "safe hands".
Calling the current period "very critical", Kejriwal told AAP volunteers, MLAs and Delhi government ministers that things will get worse in the coming days and exhorted them to "leave" for now if they are not strong enough.
"I want to tell all the volunteers, MLAs and ministers that this is a very critical period. You think over it, talk to your families. This is going to get worse in the coming days.
"He (Modi) can go to any extent and may get us killed. He may get me killed as well. Talk to your families and see if you are ready for the ultimate sacrifice. All the MLAs will anyway have to go to jail. If you are ready, then stay with us or if you have weaknesses, then leave," he said.
"Modi has lost all sense of proportion and is hell bent on vanquishing the AAP," Kejriwal said in a nearly 10-minute video message posted online.
Kejriwal's attacks on Modi came in the wake of back-to-back arrests of two AAP MLAs taking the total to 11 and filing of FIRs against Delhi Commission for Women Chief Swati Maliwal and income tax raid on Chhattarpur legislator Kartar Singh Tanwar's premises.
The BJP hit back at Kejriwal over his "shameful" attack on the prime minister and asked him to not blame Modi for his failures and instead act against his party leaders "involved" in various crimes.
"Kejriwal's comments are shameful. We condemn them. He used to harp on morals and spoke against corruption but has been unmasked. He now stands for protecting his corrupt colleagues, many of whom are involved in various crimes, including trying to cause riots to grab power," BJP national secretary Shrikant Sharma said.
Kejriwal, who had called Modi a "psychopath" and "coward" in the past, said the country would be in danger if the prime minister starts taking decisions guided by "no rhyme or reason but anger".
"For me, the biggest reason to worry is the fact that if a country's PM starts taking decisions in anger then the country will be in danger. Who knows he might be doing the same when it comes to many such decisions." he said.
"The important question is whether the country is in safe hands or not? Important thing is not the arrests of our MLAs. Is the country in safe hands ?" Kejriwal asked.
The Delhi chief minister referred to arrests of 10 MLAs, income tax raids on one legislator and attempts to disqualify 21 MLAs appointed as parliamentary secretaries to ministers through "false allegations".
"You must have seen the attempts to crush the AAP. 10 MLAs have been arrested, IT raid has been conducted on one, and attempts are being made to disqualify 21 MLAs through false allegations of office-of-profit.
"This is like a cycle of oppression. I was wondering why is this happening. People question as to why I blame Modiji. I want to know who is the mastermind behind the raids by CBI, IT etc. Someone has to be the mastermind behind them. Who is the mastermind?
"Amit Shah, Modiji, PMO. All of them are together. Shah is doing it on Modiji's prodding but it is happening from one source.
"Insiders say that Modiji is extremely angry with us and he is not thinking logically about it. Because daily arrests make no logic. Especially when all of them get bail within days and they could not prove a thing.
"He is not using his brain while dealing with us. Few people say he has been unable to digest the good work in Delhi, others say the defeat in Delhi, while the rest say it is due to the support we are getting in Punjab, Goa and Gujarat," the Delhi CM said.
Kejriwal said Modi, in his "relentless pursuit" of power, had taken the route of "crushing" his opponents as he and the BJP have "failed" to fulfil a single poll promise, thus angering various sections of the society.
The Delhi chief minister claimed Modi was "frustrated" as he has "failed to crush the courage of AAP despite putting the entire government machinery" after it.
"He unleashed the ACB, police, CBI, IT after AAP. But he could not crush our courage. We have refused to bend. So he is frustrated and does not know what to do next.
"There are two ways to capture power. One is to do good work like us. But BJP and Modiji have failed on all the fronts. All sections of the society are angry including the dalits, minorities, farmers, jewellers and the youth," he said.
Kejriwal said the Congress' "silence" had also got to do with Modi's attempts to muzzle the voice of opposition.
"The second way is to crush your opponents. And he is doing it now. He has crushed all the parties. Do you ever see the Congress raising its voice? Or any other party?," he said.
Kejriwal said India's "souring" relations with its neighbours such as Nepal and Pakistan was also due to Modi's inconsistency.
"The more I think about this, the less I am being able to sleep. Is it the reason India's age-old relations with Nepal have soured, or with Pakistan?" he asked.