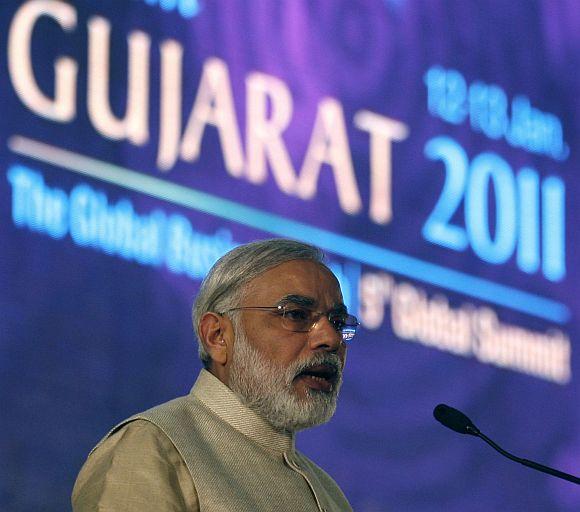 Two US lawmakers write to the House Speaker asking to extend an invitation
Prime Minister Narendra Modi is likely to be invited to address a joint session of the United States Congress during his visit to Washington in September. Before this, former PM Manmohan Singh was offered this privilege in 2005 -- that year, Modi, then chief minister of Gujarat, was denied a US visa.

Scheduled to attend the United Nations' General Assembly meeting in New York, Modi is also slated for a visit to Washington on US President Barack Obama's invitation. The dates of Modi's visit to the US are yet to be fixed but are likely in the second fortnight of September.

Government sources termed the invitation for Modi to address the US Congress, as and when it comes, an honour. New Delhi believes Modi's visit will help patch up the embarrassment over Washington's refusal to give him a visa because of the 2002 communal riots in Gujarat.

In an interview to television network NDTV recently, former US Secretary of State Hillary Clinton had said the visa issue was "in the past", and Obama and Modi would "have an opportunity to sit down and end any lingering questions about that incident". She hoped Modi "demonstrates unequivocally that he is the prime minister for all of India. I think that's his intention, and then that ends whatever lingering concerns anyone had".

According to agency reports from the US, California Republican Ed Royce, chairman of the House of Representatives Foreign Affairs Committee, wrote to House Speaker John Boehner on Friday and asked that he invite Modi to address a joint session of the House and Senate during his trip.

"In every aspect -- whether it be in political, economic or security relations -- the United States has no more important partner in South Asia," Royce's letter said, echoing Obama's speech at his address to a joint session of Parliament in November 2010. "It will not be an overstatement to say the US-India relationship will be one of the defining partnerships of the 21st century," Obama had said.

According to Reuters, Boehner's office did not immediately announce a response to the letter, which was also signed by North Carolina Republican Representative George Holding. Congressional aides said they expected an invitation would be issued to Modi.

The visa denial to Modi had come, during President George W Bush's term in power, under a 1998 US law barring entry of foreigners who had committed "particularly severe violations of religious freedom". Former US Ambassador Nancy Powell had met Modi in Ahmedabad in February this year to mark the end of Washington's refusal to engage with him.

This came at least two years after most European Union member states ended their boycott of Modi. China and Japan have had strong business ties with the Gujarat government from 2002 to 2014. Chinese President Xi Jinping sent his special envoy, Foreign Minister Wang Yi, to Delhi earlier this month to meet Modi. The prime minister is likely to visit Japan after the Budget session in his first visit outside the subcontinent.

Obama had congratulated Modi on his election victory in May and invited him to the White House. The US views India as a strong ally in South Asia, with which it has strong defence and business relations since 2001. The two countries have in place a strategic dialogue and bilateral trade in excess of $65 billion. The US, the fifth-biggest investor in India, sees India as a crucial player in developing the security architecture in Asia.

But apart from the refusal of a visa to Modi, relations in the recent past have also been hobbled by treatment meted out to Indian diplomat Devyani Khobragade and bureaucratic and regulatory obstacles in India to expanded business ties.

However, the two Congressmen strongly pitched for Modi in their letter. "With more than 500 million people voting in the recent Indian election, it was both the world's largest democratic event and a historic moment for India. The US must now work closely with Prime Minister Modi to strengthen the important relationship between the two countries," they wrote.

The two pointed out how under Modi's leadership Gujarat had thrived and that the state, home to a mere five per cent of India's population, now accounted for about 25 per cent of the country's exports. They wrote it was during Modi's years as Gujarat chief minister that poverty rates fell dramatically and infrastructure grew impressively. They said Modi had promised focus on private enterprise, reducing bureaucracy and strengthening trade ties with major partners.

"Since 2001, US-India trade has experienced impressive growth, but our commercial relationship remains far below the scale of our markets. Prime Minister Modi's commitment to cut the red tape that has long plagued our trade relationship gives reason for hope that our economic partnership will flourish," Royce and Holding wrote.

"Prime Minister Modi's visit to the United States will undoubtedly be a seminal event for the nation's vibrant Indian-American community. We look forward to working with you to ensure that this trip is a success," the letter said.

Foreign heads of states and heads of government have been invited to address joint meetings of Congress since the early 1800s, normally to underscore their countries' ties with the US. The last such address was the one by South Korean President Park Geun-hye on May 8, 2013. Among Indian prime ministers, before Modi and Singh, P V Narasimha Rao had addressed a joint session of the US Congress in 1994 and Atal Bihari Vajpayee in 2000, while Rajiv Gandhi had addressed the US Senate in 1985.