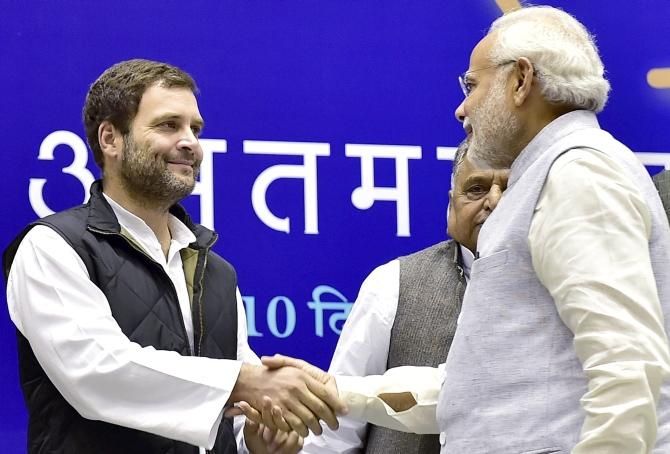 Unfazed by the prime minister ridiculing his charge of personal corruption, Congress voice president Rahul Gandhi on Thursday stuck to his guns and wanted Narendra Modi to tell what was contained in the '10 packets' allegedly given by the Sahara Group to him when he was the Gujarat chief minister.
'Modi ji first tell us what was contained in the ten packets from Sahara,' the Congress vice president tweeted.
Along with the tweet was posted a document, purportedly the one with the income tax department, with nine entries from October 2013 to February 14 detailing 'cash payments made to Modi ji'.
His comments came in reply to the prime minister, at a function in Varanasi, ridiculing his remarks about creating an 'earthquake' with accusations of corruption against him.
Modi said he is happiest since the Congress leader has 'learnt' to speak as he has unwittingly admitted the 'failure' of his party's reign.
"They have a young leader who is just learning to give speeches. Since the time he has learnt to speak, there is no limit to my happiness. In 2009, you couldn't even tell what is inside this packet and what is not. Now we are finding out," Modi had said without naming Rahul.
At a rally in Mehsana, home turf of Modi, Rahul had accused him of taking money from Sahara and Birla groups when he was the Gujarat chief minister.
The Bharatiya Janata Party had rejected the Congress leader's allegations as 'baseless, shameful and mala fide'.