The iconic selfie taken by Indian Prime Minister Narendra Modi with Chinese premier Li Keqiang during his current visit to China is being hailed by western media as one of the most "power-packed selfie in history".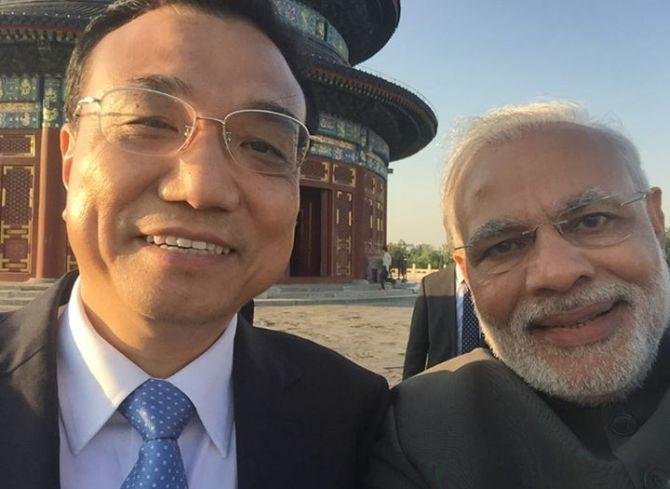 The Wall Street Journal, in a news report titled 'Did Modi Just Take the Most Powerful Selfie in History,' said that the prime ministers of the world's two biggest countries "leaned on each other for what may be the most politically power-packed selfie in history."
It said Modi pulled out a smartphone during his visit to Beijing's Temple of Heaven, "extended his arm and cozied up with Chinese premier Li Keqiang for the shot.
"That put two of the most powerful people in countries with a combined population of around 2.5 billion people -- more than one-third of humanity -- in the same frame with no official photographer involved," the WSJ report said.
An article in Forbes said that the selfie, which garnered 2,200 shares within two hours of Modi posting it on his Twitter account, is being "billed the selfie of the world's two mightiest".
"Modi and Li drive economic policy in their respective countries, two of the world's fastest-growing large economies," the Forbes article said.
The Indian prime minister is one of the world's most followed on Twitter with 12.3 million followers.
A tweet from news outlet CNBC said that "two world leaders just took the most-powerful selfie ever.

"The leaders of two of the world's fastest growing countries just made selfie history... Sure, a picture can say a thousand words -- but it's not every day one can speak for over a third of the world's population," the CNBC report said. It added that combining GDP from both countries, the selfie captures more than $10 trillion.
The Wall Street Journal noted that the Indian Prime Minister is "no stranger to selfies" and had used one in his 2014 election campaign.
Modi was also the first world leader to use a Twitter Mirror, an exclusive app that produces autographed selfies and posts them to Twitter on his tours, it said.
Modi has taken selfies with Australian Prime Minister Tony Abbott during a visit to his country in November.
The report cited other powerful selfies that have created records of their own, including the 2014 Oscar selfie taken by host Ellen DeGeneres with Hollywood giants Meryl Streep, Bradley Cooper, Jennifer Lawrence, Lupita Nyong'o, Brad Pitt and Angelina Jolie Pitt. The selfie received more than 921,000 retweets in less than 40 minutes and went on to get more than a million retweets
In 2013, US President Barack Obama and Britain's Prime Minister David Cameron posed for a selfie with Denmark's Prime Minister Helle Thorning Schmidt at a memorial service for Nelson Mandela in South Africa, an image that however was criticised by some who said it was inappropriate for the leaders to take a selfie at such a solemn occasion.