In a major initiative marking Prime Minister Narendra Modi's maiden visit to Bangladesh, two bus services connecting key cities in the two countries were flagged off on Saturday to boost connectivity and enhance people-to-people contact.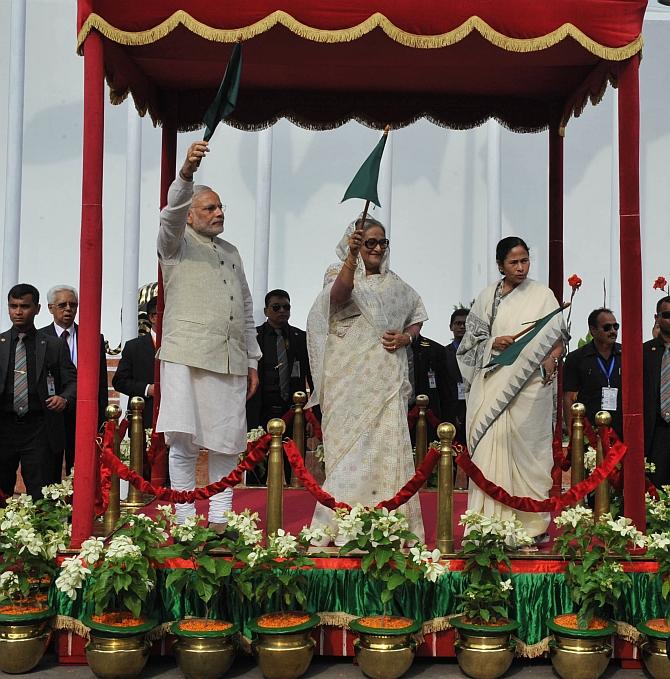 "I wish you all a very happy journey," said Modi after jointly flagging off the Kolkata-Dhaka-Agartala and Dhaka-Shillong-Guwahati bus services with his Bangladeshi counterpart Sheikh Hasina and West Bengal Chief Minister Mamata Banerjee in Dhaka.
During the flag off ceremony on the first day of his visit, Modi handed over a symbolic ticket of the Agartala-Dhaka-Kolkata service to Hasina and in return, she handed over a symbolic ticket of Dhaka-Shillong-Guwahati service to him.
Banerjee gave Hasina a symbolic ticket of the Kolkata-Dhaka-Agartala service.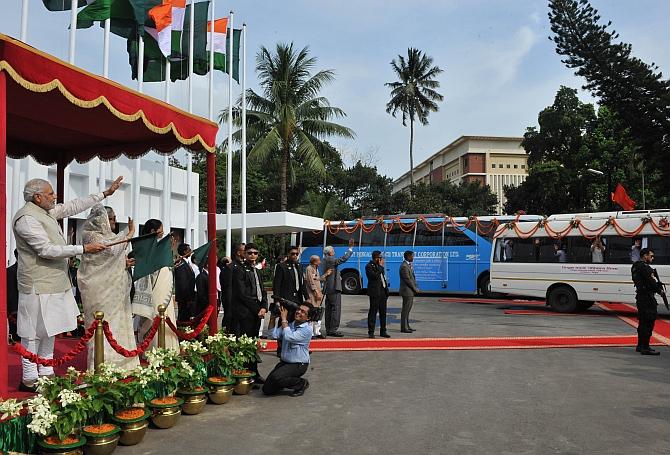 Modi said the bus services -- that will link West Bengal to three north eastern states of India via Bangaldeshi capital Dhaka -- will strengthen relations between both countries.
The Kolkata-Dhaka-Agartala service would reduce by 560 km or nearly one-third the distance between West Bengal and the landlocked state of Tripura -- which is surrounded by Bangladesh from three sides -- benefitting commuters.
"Increasing people to people contact and connecting the two Nations... flagging off the bus services," Modi tweeted.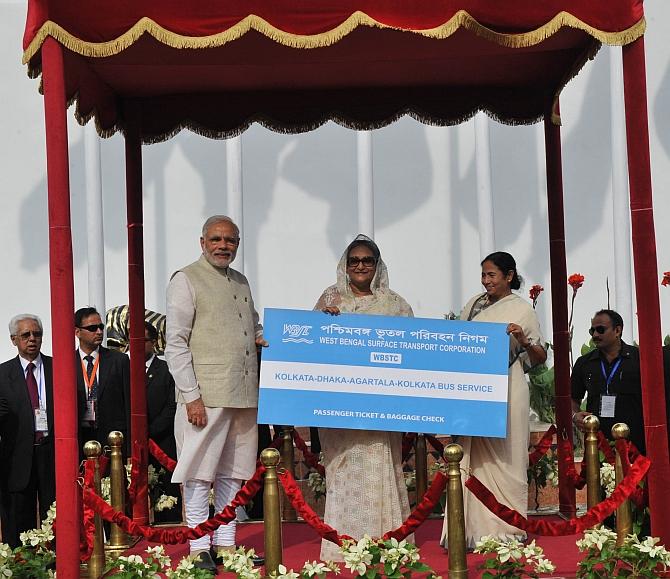 "Connecting lands, binding hearts," External Affains Ministry spokesman Vikas Swarup said in another tweet.
Modi along with Hasina and Banerjee spent few minutes inside the inaugural Kolkata-Agartala via Dhaka bus just minutes before it was flagged off from the Bangladeshi Prime Minister's Office at around 4 pm on Saturday.
The three leaders exchanged greetings with the 28-member delegation of West Bengal officials, passengers and journalists.
After boarding the bus, Modi shook hands with each delegation member. He along with Hasina and Banerjee then sat on the front three seats of the bus.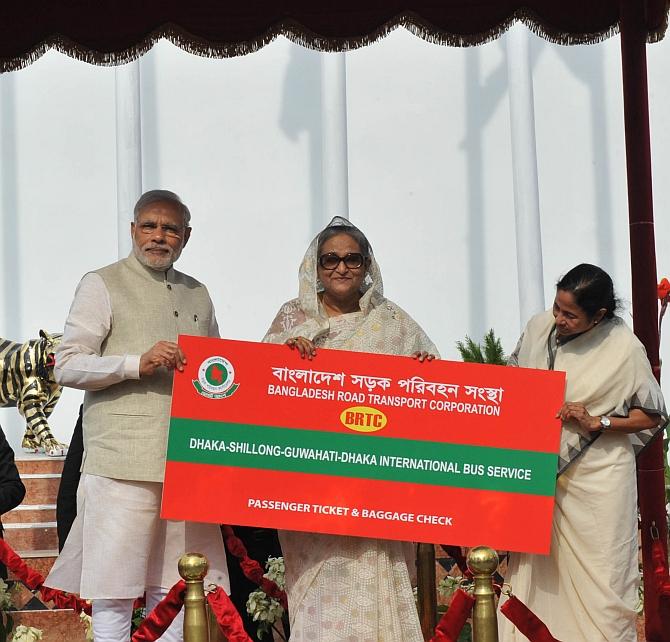 When asked whether she feels that the bus services will strengthen the bilateral relations, Hasina replied in the affirmative, saying: "Obviously, this will strengthen our bilateral relationship further. How can we forget the contributions and the role played by India during our Liberation War?"
There would be two buses on the Kolkata-Agartala-Dhaka route, one of which would be run by the West Bengal government and the other by the Tripura government.
The solo bus in the Dhaka-Shillong-Guwahati route would be run by the Bangladeshi government. Buses on this route would originate three days a week each from Guwahati and Dhaka, respectively.
People of the north eastern states of Tripura, Meghalaya and Assam, which share extensive boundaries with India's eastern neighbour, would benefit from the two services.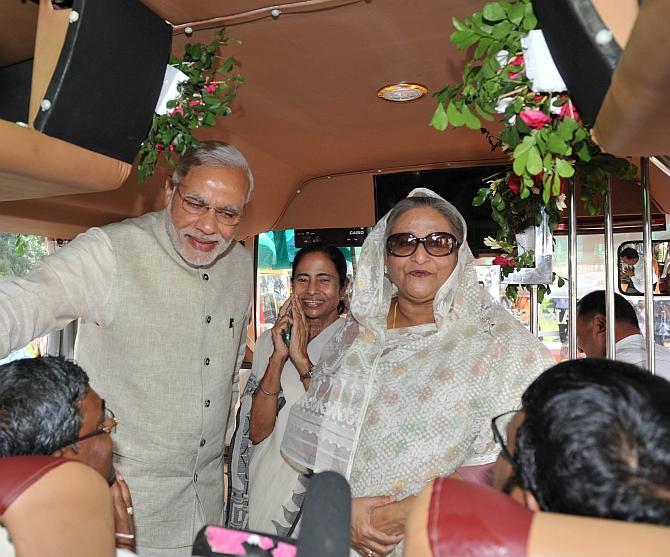 At present, separate bus services between Dhaka-Kolkata and Dhaka-Agartala are operational.
India feels improving connectivity with Bangladesh will help linking the north eastern region with Southeast Asia.
India and Bangladesh are also keen to strengthen railway connectivity, particularly to revive railway links which were in existence prior to 1965.
They are also set to sign a coastal shipping agreement to facilitate sailing of small vessels from India to various ports in Bangladesh which now go through Singapore.