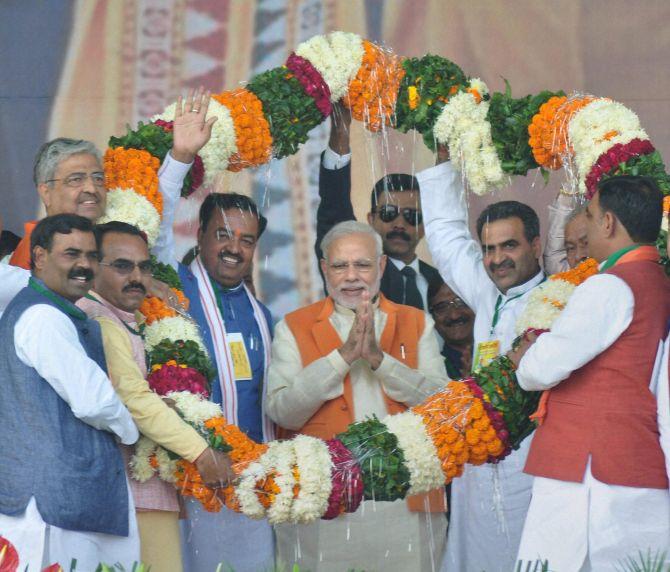 Prime Minister Narendra Modi on Saturday referred to a WhatsApp video showing a beggar using a swipe machine to persuade people to shift to digital monetary transactions, insisting Indians do not take long to accept new things if they know the intention behind an action is right.
"I don't know how far it is true but there is a video going viral on Whatsapp of a beggar being told by a man that though he wanted to help, he does not have change," Modi told Bharatiya Janata Party's Parivartan Rally in Moradabad.
"The beggar asks him not to worry and takes out a swipe machine and asks for his debit card," the PM said as the crowd burst into peals of laughter.
He said Indians do not take long to accept new things if they are told the intentions are right.
Amidst chants of "Modi-Modi" by the audience, the prime minister referred to hundreds of villages which do not have power, even 70 years after Independence.
"People in villages also want to see TV… They also like to see 'saas-bahu' serial but as there is no electricity how can they see it," Modi said, referring to the popular TV show.
The government has said money recovered from those hoarding it post demonetisation exercise would be used for people's welfare like infrastructure development.
Replying to the opposition's charge that farmers have been hit hard by demonetisation and sowing has been affected, he said, "I especially want to thank farmers who despite all problems have not allowed sowing to be affected... it has rather gone up from last time."
"They (opposition parties) are misleading people, creating an atmosphere of pessimism," he said.
Taking a dig at those who have been attacking him over the move, he said, "Some people have lost glow on their faces... earlier they used to chant money-money, now they are chanting Modi-Modi."
Modi said many governments in the past made announcements but this is the first government which gives an account of the work done to the people of the country.
The PM said the government should not be merely for making announcements. It should launch schemes and ensure their effective implementation.
Attacking the opposition, he said parties in power in the past had worked only for themselves and for their near ones, but not for the poor.
"I had announced from Red Fort that power will reach 18,000 villages deprived of it in 1,000 days. There were over 1,000 villages in Uttar Pradesh alone. In half the time, over 950 villages have been taken care of," he claimed.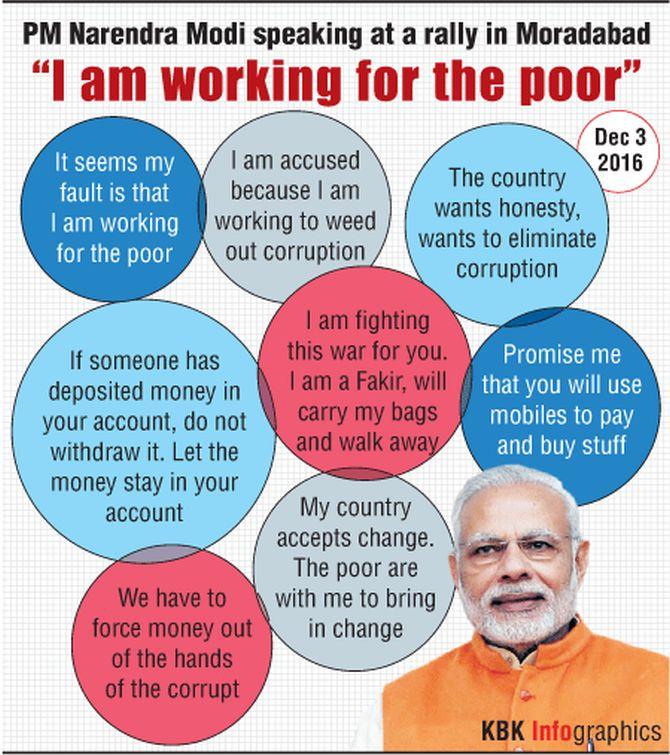 He rued that corruption has snatched rights of the poor and said, "Shouldn't I fight corruption? Is fighting corruption a crime? Why are some people calling me a wrong doer for fighting corruption."
Asking the poor not to withdraw any money from their Jan Dhan accounts, he said, "I will fix those who used to chant 'money, money' earlier and are now saying 'Modi, Modi'."
Modi said his decision to ban notes did not go down well with the corrupt as they were facing the pinch.
He said the rich do not have the strength to stand in queues and are thus queuing up outside the homes of the poor for depositing their money into their accounts.
"The dishonest people are unable to go to banks and deposit their ill-gotten wealth. They are the ones complaining against the government's demonetisation move," he said.
"Today the dishonest are queuing up outside the houses of the poor after demonetisation for their help through the Jan Dhan accounts," he said.
"The corrupt and rich people have asked poor villagers to safeguard their money for them, to stand in lines and deposit it in banks for them. Instead of standing in queues at banks, they are standing in queues outside the houses of the poor," the prime minister said.
"Those who have money to hide are the ones blaming me," he said, asking the gathering, "Should I not fight corruption? Will corruption disappear by itself?"
The common man is fed up with corruption and "if people come to know the intentions are good, they are ready to face any challenge", he said referring to those standing in long queues outside banks and ATMs.
Asking people to go digital, Modi told them to use their mobile phone as their wallet and there was no need to use cash.
"People will not forgive the corrupt, the country has to be rid of all ills during the past 70 years," he said.
Modi reminded BJP volunteers and party workers once again of the government's assurance that things will ease up after a period of 50 days.
"I had said there will be hardships for now, but things will improve. You might have to stand in queues to withdraw money, but it's essential to eliminate corruption," he said, and cited instances of parents doling out heavy sums for admission of their children in schools and for higher studies.
On shortage of currency notes, Modi suggested use of plastic money and to go cashless.
"There are 40 crore smartphones in the country today. Everything is available on mobile banking, net banking and through credit and debit cards. You just need to download an app on your phone, and for 40 crore people, everything is possible without visiting a bank or standing in queues," he said.
Modi also hit out at those saying people were resisting change or were technologically challenged, saying "they should remember that the same people elected a new government by pushing a button".
"Some people have lost glow on their faces... earlier they used to chant money-money, now they are chanting Modi-Modi," he said.
He said to eradicate poverty from country, it has to be removed first from big states like Uttar Pradesh, Bihar, Maharashtra and West Bengal.
Modi cited the example of Madhya Pradesh to highlight the efficiency of BJP rule.
"Madhya Pradesh was considered a 'bimaru' state. But the people of MP gave BJP a chance. The state government there, led by Shivraj Singh Chouhan, has transformed the state. Today, Madhya Pradesh is a shining example of efficiency," he added.