Prime Minister Narendra Modi on Sunday said it was unfortunate that earlier not much attention was given to modernising Indian railways and asserted that his government was working for its transformation.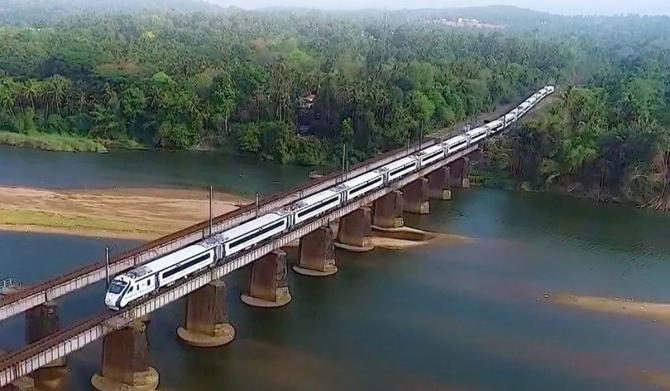 Modi made the remarks in his address before flagging off nine Vande Bharat trains connecting religious and tourist destinations across 11 states.
The nine trains will provide faster connectivity across 11 states -- Rajasthan, Tamil Nadu, Telangana, Andhra Pradesh, Karnataka, Bihar, West Bengal, Kerala, Odisha, Jharkhand and Gujarat.
In his address via video conferencing ahead of the flag off, Modi said the speed and scale of infrastructure development is matching the aspirations of 140 crore Indians.
He said the popularity of Vande Bharat trains is constantly rising and over 1,11,00,000 passengers have already travelled in them.
The prime minister noted that 25 Vande Bharat trains are running and now nine more have been added.
That day is not far when these trains will connect all parts of the country, he said.
"Indian railways is the most trusted co-passenger of India's poor and middle-class people. The number of people who travel in the railways in one day is more than the population of many countries," he said.
"It is unfortunate that not much attention was given to modernise Indian railways. But now our government is working for the transformation of Indian railways," Modi said.
In his remarks, Modi also said that all Indians are proud of new India's accomplishments and the common person's expectations have reached sky high due to the success of Chandrayaan-3.
The success of G20 Summit has given confidence that India has power of democracy, demography, and diversity, he said.
"World has hailed our women-led development and to advance this vision the government brought Nari Shakti Vandan Adhiniyam," he said.
The new Vande Bharat trains flagged off by the PM will run between: Udaipur-Jaipur; Tirunelveli-Madurai-Chennai; Hyderabad-Bengaluru; Vijayawada-Chennai (via Renigunta); Patna-Howrah; Kasaragod-Thiruvananthapuram; Rourkela-Bhubaneswar -Puri; Ranchi-Howrah; and Jamnagar-Ahmedabad.
These trains are a step towards realising the prime minister's vision of improving connectivity across the country and providing world class facilities to rail passengers, according to an official statement.
"The Vande Bharat trains will be the fastest train along the routes of their operation and will help save considerable time of the passengers," it said.
The introduction of these Vande Bharat trains will herald a new standard of rail service in the country, the statement said.
These trains, equipped with world class amenities and advanced safety features, including Kavach technology, will be a key step towards providing modern, speedy and comfortable means of travel to common people, professionals, businessmen, student community and tourists, it added.
New Vande Bharat trains roll out with new feature after passenger feedback
The nine Vande Bharat Express trains flagged off by Prime Minister Narendra Modi on Sunday have a host of new features incorporated after passengers' feedback to make the journey more comfortable.
From improvising the seat reclining angle to incorporating deep wash basins to avoid water from splashing out, the coach manufacturers have paid attention to minute details.
The railways also rolled out its first orange coloured Vande Bharat Express from Kasargod to Thiruvananthapuram, a high demand route which now operates two such trains, a senior Indian Railways official said.
Over the next two months, nine more orange coloured Vande Bharat Express trains are expected to be rolled out.
Among the new features introduced on the trains based on passenger feedback are: the seat reclination angle raised from 17.31 degrees to 19.37 degrees, hardness of cushion optimised and the colour of seat in executive class coach changed from red to pleasant blue.
The changes also include improved accessibility of mobile charging point under the seats, extended footrest for seats and magazine bags for executive class coach-end seats as well.
The improved features also include increase in the wash basin depth to avoid splashing of water in lavatories, lighting in toilets improved from 1.5 watts to 2.5 watts, toilet handle given additional bend for improved grip and water tap aerator to better water flow control.
The new features include provision for securing points for wheel chairs of Divyangjan passengers in driving trailer coaches.
The new trainsets also have improved air tightness for better airconditioning with insulation over panels, better roller blind fabric with more tear strength with less transparency and smooth touch controls for luggage rack lights by changing from resistive touch to capacitive touch.
The trains also have improved aerosol based fire detection and suppression system inside the coaches.