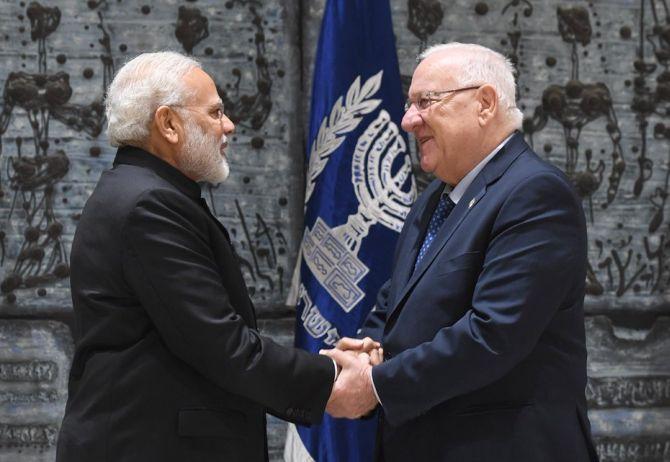 IMAGE: Prime Minister Narendra Modi meets Israeli President Reuven Rivlin in Jerusalem on Wednesday. Photograph: @PresidentRuvi/Twitter
Prime Minister Narendra Modi on Wednesday called on Israeli President Reuven Rivlin and discussed ways to strengthen bilateral ties and how Israel's cutting-edge technology could help the 'Make in India' initiative.
Describing Israel as a real friend, Modi recalled Rivlin's visit to India in November last year.
Hailing the ties between the two nations, Modi said: "...today it is 'I to I and I for I'. When 'I say I for I, I don't mean the popular saying but what I mean is India with Israel, India for Israel."
Modi, who arrived in Tel Aviv on Tuesday for a three-day visit, met Rivlin at his residence in Jerusalem.
'The President of Israel welcomed me so warmly, he broke protocol. This is a mark of respect for the people of India,' Modi tweeted.
'It is a privilege to meet President Rivlin again today. I fondly recall his visit to India last November when he charmed us with his affable manner and desire to do more with India,' Modi wrote in the guest book at the President's residence.
'President Rivlin is admired in India for his unstinting belief and common good of mankind, I thank him for his friendship and his warm hospitality,' wrote Modi, who is the first India prime minister to visit Israel.
Modi said during his visit to India, Rivlin started a phrase 'Make with India' and 'I feel since my arrival yesterday that has been echoed by many people and I think what you started has now percolated to all levels'.
Rivlin on his part described Modi as one of the greatest leaders in the world.
"We have a lot in common and doing a lot in common. We understood very well about your thought about the need to help partners who will 'Make in India'," Rivlin said.
"...we are doing a lot in order to fulfill your ideas about 'Make in India'," the Israeli President said.
"We only suggested some projects that may be we can do with India and I know that you have accepted that and appreciated that very much," he said.
Rivlin said there was a scope for cooperation between universities and industries of India and Israel.
"The....people in Israel are trying to find ways to invest in India and to make mutual projects together," he said.
IMAGE: 'The President of Israel welcomed me so warmly, he broke protocol,' tweeted Modi.
Photograph: @PMOIndia/Twitter
On second day of his visit, Modi will also meet Moshe Holtzberg, the Israeli child who as a toddler survived the 2008 terror attack at a Jewish centre in Mumbai.
Moshe is 'excited and emotional' ahead of his meeting with Modi, his grandfather said on Wednesday.
Shortly before Moshe's second birthday, the terrorists stormed the Chabad House in Mumbai, taking the toddler, his parents and several tourists hostage. Moshe's nanny, Sandra Samuels, was also in the building but managed to hide in a room downstairs.
She emerged when she heard Moshe's cries and found him standing between his parents' bodies. She grabbed him and fled the building, also known as the 'Nariman House', which reopened in 2014 after extensive renovations.
Moshe now lives in Afula, Israel, with his grandparents -- Rabbi Shimon Rosenberg and his wife Yehudit Rosenberg.
"Moshe is excited and emotional. We all are. We attach a lot of importance to the visit of Modi to Israel and his deciding to meet us," Rabbi Shimon Rosenberg told PTI over phone from Jerusalem.
Modi is making a special point by meeting 11-year-old Moshe, who survived the 2008 attack that claimed the lives of his parents, Rabbi Gavriel and Rivka Holtzberg, the directors of the Chabad House.
"We all are here at Jerusalem from Afula to meet the Indian prime minister. This meeting is very important to us as the prime minister, who represents 125 crore Indians, has shown a desire to meet Moshe and us," Rosenberg said.
"India has given too much love to Moshe and all of us. God bless India and Prime Minister Modi," he said.
"It is nice to know that we have not been forgotten and that Indians share our pain," he said.
Asked if Moshe recalls the Chabad House attack in Mumbai, Rosenberg said, "He doesn't speak much (on the terror attacks) but says Chabad House is his home."
Moshe will be visiting Chabad House after two years when he is 13, Rosenberg said.
"I could not believe my ears when I got a call from the Indian ambassador saying that Prime Minister Narendra Modi wants to meet us," Moshe's grandfather said.
Samuels, 53, was granted honorary Israeli citizenship in 2008.
She frequently travels from her home in Jerusalem to visit Moshe and his grandparents. The Rosenbergs and Samuels have also been invited to meet the prime minister.
Rabbi Israel Kozlovsky, the director of Chabad House in Mumbai, said he was looking forward to a new era of ever-more friendly relations between India and Israel.
WATCH THE VIDEO BELOW