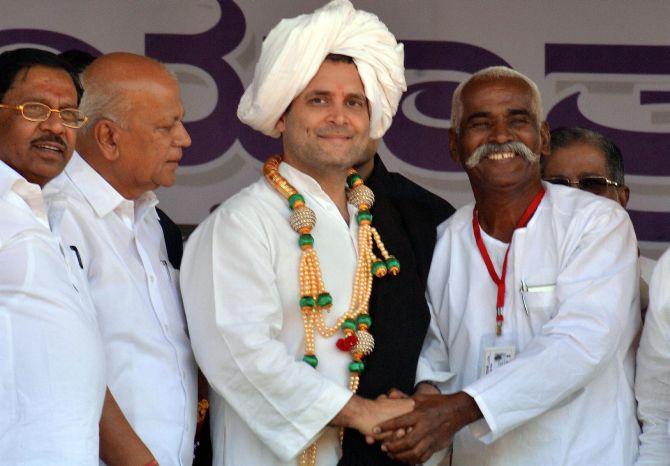 Congress President Rahul Gandhi on Monday said former defence minister Manohar Parrikar was unaware about Prime Minister Narendra D Modi changing the Rafale contract, as at that moment, the former was 'buying fish' in Goa.
Rahul was addressing a public rally in Karnataka's Saundatti ahead of state assembly elections.
"The defence minister was in Goa buying fish from a fish shop ... he did not even know that Modiji had changed the contract of the Rafale deal," Rahul alleged.
Earlier, he called out Defence Minister Nirmala Sitharaman for changing her stance on revealing the cost of the Rafale fighter aircraft.
In a tweet, Gandhi wrote, 'Tweet- Q. Why did the Raksha Mantri change her stance from 'I will reveal the price of the RAFALE planes in Nov 2017 to the price is a state secret in Feb 2018? A) Corruption, B)To protect Modiji, C)To protect Modiji's friend, D) All of above.'
"I asked the prime minister three questions -- the cost of jets; if they asked the Cabinet Committee on Security about it and why was the contract snatched from HAL (Hindustan Aeronautics Limited) and given to a businessman? But got no answers," he told reporters.
Elections in Karnataka are scheduled to be held in April and or May this year to elect members from 224 assembly constituencies.
IMAGE: Congress President Rahul Gandhi greets farmer leaders during his Janashirvada Yatra in Bilagi taluk in Bagalkot district, Jarnataka. Photograph: PTI Photo