The Sangh Parivar forgets that not only is there no scriptural prohibition, venerable authorities in India held beef as both a desirable and an essential food, says Sunanda K Datta-Ray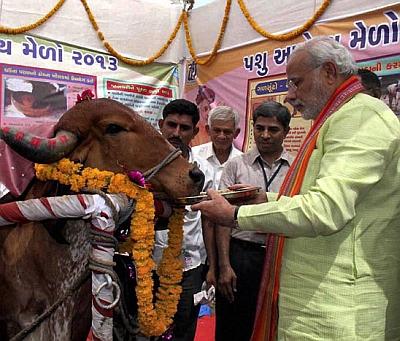 Narendra Modi would be horrified to learn the Rashtrapatiji once confessed to eating beef. Mohan Bhagwat, who inaugurated the recent Vishva Hindu Parishad sammelan in Kolkata with puja to the statue of a cow, would certainly be horrified if Modi isn't.

But Pranab Mukherjee didn't really do anything so remarkable. He only pretended to, which Sangh Parivar worthies would consider bad enough. As recounted in Mukherjee's memoirs, The Dramatic Decade: The Indira Gandhi Years, it was 1943 with his father was in the thick of the nationalist movement when the police turned up at their house one day to seize all they owned. Warned in advance, they had removed their papers, cattle and grain to other houses.

To quote Mukherjee, "Not finding much to confiscate, a sub-inspector in the police party asked me, 'You used to have cows at home, I've seen them. Where have they gone now?' Straight-faced, I replied, 'Cows? We ate them.'

The sub-inspector was astounded.

'What are you saying? You are Hindus and you ate your cows?'"

Eight-year-old Pranab was already a consummate politician.

"Actually, Father has been in jail for a long time" he said glibly. "So we sold the cows for some money to feed ourselves."

Believing India is a "Hindu Rashtra" (since he's ignorant of the Constitution), Bhagwat would want to know who the cows had been sold to.

So would Ashok Singhal of ghar wapsi notoriety and the VHP's international working president (presumably there's also a national non-working president) Pravin Togadia.

They would suspect a Muslim buyer's culinary habits like many Hindu landlords who won't have even Westernised Muslim corporate executives as tenants.

Togadia's Kolkata listeners were impressed when he said that shampoo, face packs and face wash made from cow dung and urine sell for Rs 15 crore. But they wondered why he urged them to buy more such cow products and send sales rocketing to Rs 15,000 crore. At least Mamata Banerjee wanted more money for Saradha victims when she asked people to smoke more. Togadia didn't mention any cause.

Since cows can't benefit from higher cow product sales, his advocacy must be to help favoured businessmen.

Had Sangh Parivar leaders read Frontier, the plucky little weekly Samar Sen founded, they would have confronted another contradiction.

AGD's News Wrap in a recent issue claimed "India is the (world's) biggest beef exporter, overtaking Brazil in 2012." Yet, about three inches down the column, one read that "the export of beef -- meat of cow, ox and calf -- is prohibited."

Although Organiser hailed the United Progressive Alliance's 2012 ban on selling beef abroad as "Victory for Hindus", the US Department of Agriculture reckoned India exported more than two million metric tonnes last year.

"They export beef but call it buffalo!" explained my butcher. "They did so even when the Bharatiya Janata Party was in power" he added, referring to 1998-2004.

I had a taste of dissimulation in reverse when I returned from England as a young man: an elderly British colleague warned me never to order veal in India. "They kill only old and diseased cows," he said.

But I am getting away from Rashtrapatiji's childhood encounter.

Mukherjee is an erudite Brahmin well versed in the scriptures. He doesn't need to posture like the Young Bengal pioneers who, when they encountered "a snanshuddh Brahmin with the sacerdotal mark on his forehead, danced round him, bawling in his ears, 'We eat beef. Listen, we eat beef.'"

Nor does he have to emulate the Jawaharlal Nehru University radicals who declared war on "food fascism" and fought yesterday's battle with a heated debate on the "Politics of Food Culture: The Holy Cow and Unholy Swine". Unlike Nirad C Chaudhuri, he won't blame his spoken English on being starved of beef in his childhood.
Mukherjee must know, as Raja Rajendralala Mitra says in Beef in Ancient India, that not only is there no scriptural prohibition, but venerable authorities held beef as both a desirable and an essential food.

Bhavabhuti's eighth century Uttara-rama-charita confirms that the great Valmiki entertained the sage Vasishtha with "the flesh of ox, or calf or goat" while a hospitable king in the Mahabharata had 20,100 cattle slaughtered every day to feed his guests.

Revisionist historians will dismiss the cattle as buffalo. No wonder we call India's rum, whisky and gin exports "Potable Alcohol" and continue to swear by prohibition.

Ingenuity peaked in the saffron NRI who justified wolfing down a Texan steak with the argument that Indian cows are holy, not mlecchha animals beyond the kala pani.