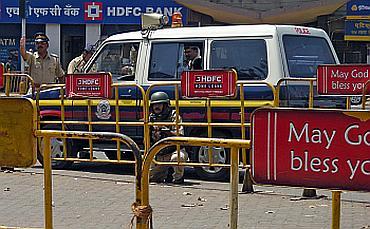 On Monday afternoon, devotees at the Mumbai famed Siddhivinayak Temple were in for a surprise, when cops armed with machine guns cordoned off the temple and the surroundings to conduct a mock drill.
About 40-odd policemen and women, including some in plain clothes stopped traffic near Portuguese Church, which lies to the north of Mumbai's iconic landmark.The rest of the traffic flowed smoothly even though curious bystanders wondered what was happening. Interestingly, the two fuel stations that are at a stone's throw distance from the temple continued to function uninterruptedly.
Siddhivinayak Temple, which sees most visitors on Tuesdays, is believed to be be on the hit list of terror groups.

Currently, the temple has closed circuit camera surveillance, a continuous police presence with a dedicated police station on its premises and a huge wall and a net which protects the temple from projectiles like grenades.
Image: The police take their position during a mock drill outside Siddhivinayak temple in Mumbai.
Photograph:Abhishek Mande