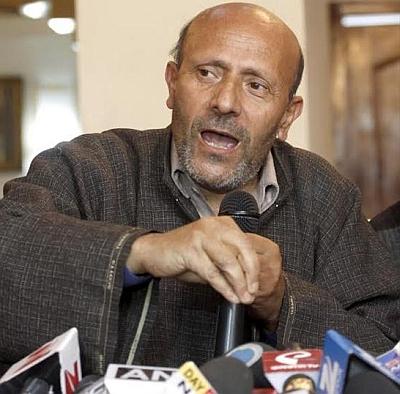 The police on Saturday detained Independent Member of Legislative Assembly Sheikh Abdul Rashid after he tried to take out a protest march against Prime Minister Narendra Modi's public rally in Srinagar.
Rashid was detained outside his residence in the posh Jawahar Nagar locality of the city as he, along with his supporters, tried to take out the rally, said a spokesman of his Awami Itehad Party.
A heavy police contingent stopped Rashid outside his residence and took him to the police station at Rajbagh, wherehe was detained, the spokesman added.
The legislator, who represents Langate constituency of Kupwara district, released black balloons tied with banners into the sky in a mark of protest, he said. The spokesman claimed that police used batons on the protesters in order to stop the march, leading to injuries to a party worker. The injured person has been admitted to SMHS hospital.
Rashid had announced that he would stage a protest outside the venue of the prime minister's rally at the Sher-e-Kashmir Cricket Stadium. The stir would be over the issue of growing intolerance in the country, he had said, adding that he would also raise the demand for the resolution of the Kashmir issue.