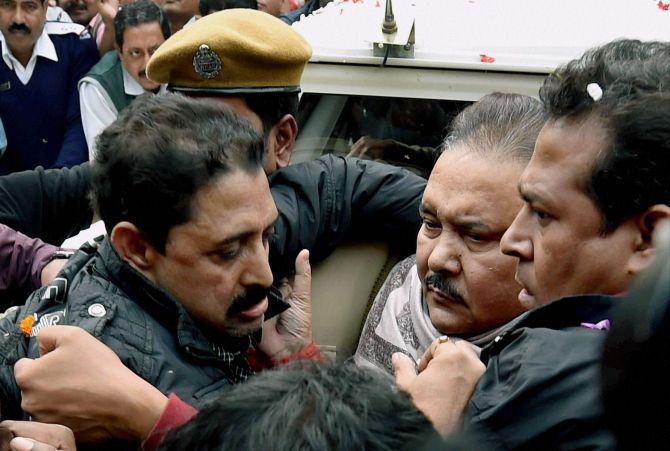 West Bengal Transport Minister Madan Mitra, who was arrested by the Central Bureau of Investigation in the multi-crore Saradha scam, was on Saturday brought to the Alipore Court for production amid state wide protest by the supporters and workers of ruling Trinamool Congress.
To prevent any untoward incident around the court premises, there was unprecedented security blanket, as curious demonstrators waited on either side of the road from Gopalnagar crossing to Alipore police station.
The slogan shouting supporters with placards in hand were vocal against the Modi government at the Centre, terming Mitra's arrest "a deep-rooted conspiracy."
Many supporters were found to shower flower petals on the slowly moving vehicle carrying Mitra.
With processions, road blocks and effigy burning of the BJP leaders, Trinamool Congress launched its state wide protest condemning the arrest of Mitra by CBI in the multi-crore Saradha scam.
Reports of demonstrations and blockades of roads and railway track poured in from various parts of the state, while TMC men also blocked Belvedere Road in South Kolkata, the route which Mitra was supposed to take for production in Alipore court.
A large number of party supporters and workers also gathered before the CGO Complex at SaltLake, from where Mitra was brought to the court.
Mitra's residential area Bhawanipore in southern part of the metropolis and his assembly constituency Kamarhati in northern suburbs witnessed massive processions and hour-long road blocks inconveniencing people.
Shops and business establishments were also forced to down shutters of their establishments.
Eastern railway sources said that the protesters put up a blockade over railway track in the morning at Purbasthali under Bandel-Katwa section and at Bhasila Road under Barasat-Hasnabad section.
Train service was disrupted over an hour during peak office hours. However normal train service was restored after the RPF and local police intervened.
Protestors also put up road blocks and took out processions in different districts, the police said.
Photograph: PTI