Muthukrishnan was one of the passengers on the IAF flight that has gone missing.
Rediff.com's A Ganesh Nadar visited his family home on Monday.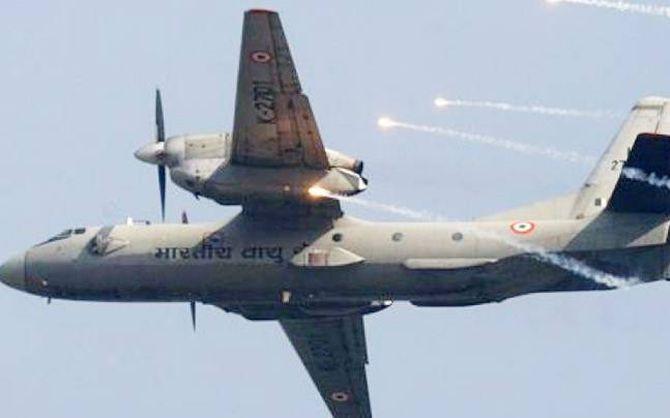 Muthukrishnan, 39, of the Coast Guard is one of the 29 passengers aboard the Indian Air Force plane that has gone missing in the Bay of Bengal since Friday, July 22.
The plane was flying from the IAF base in Tambaram, Chennai, to Port Blair and Car Nicobar, Andaman and Nicobar.
His home in Chembur is just off Alwarthirunagari town in Tamil Nadu, Tuticorin district. Work on building an additional another floor to his home has been stopped after news that Muthukrishnan was on the missing flight.
His brother Dharmar said Muthukrishnan regularly flew to the Andamans, which had been his posting for the last six months. "His elder son is mentally challenged, for which he is receiving treatment in Chennai. That is the reason he left his family in Chennai. Otherwise, the wife and his two sons would have gone with him," Dharmar said.
A pall of gloom has descended on the house. Villagers have gathered to ask if there is any news. Some relatives had come from far off villages.
Muthukrishnan's mother Pandarathiammal wept, asking, "He has gone on so many flights, nothing like this has ever happened. Are they searching properly? Are they telling us everything?"
Dharmar, who works in the police department, is disappointed with the IAF. "They are the ones who lost the plane, but now they are saying nothing. They are not taking responsibility for their action."
He had not told his elderly mother about the incident, but the visits of journalists and villagers had alerted her to what was going on.
Muthukrishnan has been working for the Coast Guard for 20 years.
Though the government and the IAF has launched a massive search operation, involving planes, helicopters, ships and a submarine, the chances of finding any survivors looks remote with each passing day. Dharmar is praying for a miracle.
"A Coast Guard inspector general just spoke to me. They call me every day to keep me informed of what they know, but the IAF is not saying anything. The mystery is puzzling," Dharmar said with sorrow.
IMAGE: The IAF AN-32 aircraft. Photograph: PTI