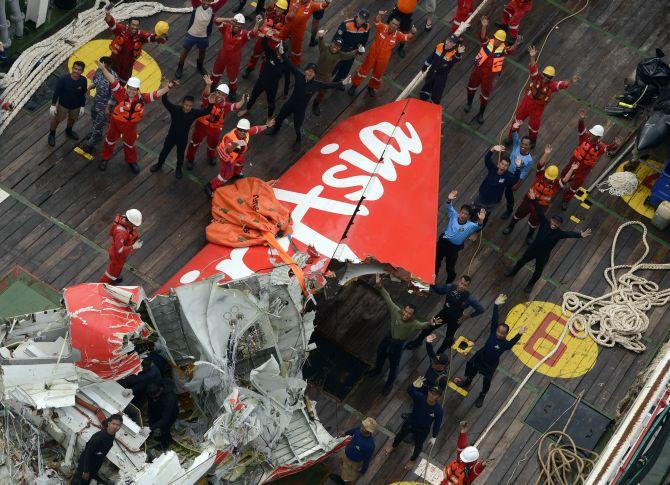 Indonesian investigators probing the crash of AirAsia flight QZ8501 that killed 162 people have said that a malfunctioning part and the subsequent mishandling of the problem by the crew caused the mishap.
The Airbus A320 had crashed into the Java Sea on December 28 last year en route to Singapore from the Indonesian city of Surabaya.
In their final report into the crash, the investigators said the system that helps control the movement of the aircraft's rudder had a cracked solder joint that malfunctioned four times during the flight and 23 times the previous year.
It sent repeated warning messages to the pilots of flight QZ8501 and they pulled the circuit breaker to reset the system after the fourth warning signal. This turned off the autopilot and gave them manual control, said the investigators.
'Subsequent flight crew action resulted in inability to control the aircraft ... causing the aircraft to depart from the normal flight envelope and enter a prolonged stall condition that was beyond the capability of the flight crew to recover,' said Indonesia's national transport safety committee.
The plane then started to roll and as the pilots fought to stabilise it, warning alarms were 'screaming'. The black box data recorder showed it soared from 32,000 feet to 37,400 feet in 30 seconds before it lost lift and stalled.
Investigators said co-pilot Remi Plesel was at the controls moments before the plane crashed, rather than the more experienced Captain Iriyanto.
Crucially, said investigators, there were failures in 'identifying repetitive defects and analysing their consequences'.
Tuesday's final report into the disaster said there were no indications that bad weather had played a part -- contradicting suggestions at the time of the crash.
Large chunks of the wreckage were recovered from the sea in January following a massive international search involving dozens of planes and ships.
The bodies of 56 of the victims were never found.