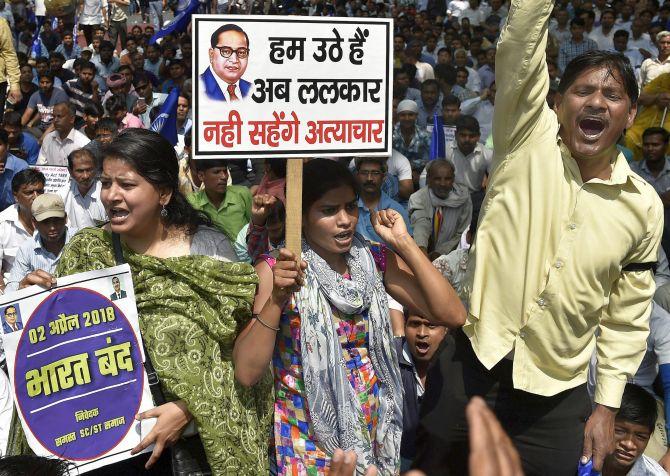 A 13-year-old Dalit boy was allegedly beaten up by four Rajput men for wearing a 'mojdi', a type of ethnic leather shoes, police said on Thursday.
The incident, which came to light after a video of it went viral on social media, occurred on Wednesday in Bahucharaji town of Gujarat's Mehsana district.
Based on the minor's complaint on Thursday, an first information report was registered against the four men, said Bahucharaji police Sub Inspector R R Solanki.
"It is alleged that these four Rajput youth, including one Bharatsinh Darbar, thrashed the victim for wearing a mojdi. We have booked them on charges of kidnapping, assault
as well as under relevant sections of the SC/ST (Prevention of Atrocities) Act," Solanki informed.
In his complaint, the minor boy, a resident of Vitthalapur village of Ahmedabad district, stated that the incident happened in Bahucharaji town on Wednesday.
'When I was sitting near the bus stop, a group of youths came to me and asked me my caste. When I said that I am a Dalit, they asked me why I was wearing mojdi despite being a Dalit.
'When I tried to save myself by claiming that I am a Rajput, they forcibly took me to a place and thrashed me,' his complaint stated.
'They slapped and punched me and beat me with a stick. They accused me of trying to be a Rajput by wearing such shoes. I somehow managed to escape and came home,' the
complaint added.
In the video, which was allegedly shot and circulated by one of the accused, the Dalit boy can be seen sobbing and pleading for mercy.
While beating him, two of the accused can be heard in the video saying that one cannot become a Rajput by donning such footwear.
The person who was shooting the video can be heard saying that he will send this video to Vitthalapur, the minor's place of residence, apparently to give a message to others.
While begging for mercy, the victim can be heard saying that he is a Dalit and will never try to be a Rajput.
This is the latest incident involving upper caste men allegedly attacking Dalits and OBCs for trivial reasons.
Last month, a group of Rajputs clashed with Dalits in Dholka town in Ahmedabad district over a Dalit man's decision to add the suffix 'Sinh' to his name.
2 backward caste boys paraded naked for bathing in farmer's well
Two minor boys from a backward community were allegedly beaten up and paraded naked in a village in Maharashtra's Jalgaon district for swimming in a well that belonged to a person of a different caste, police said on Thursday.
The teenagers were paraded by two men, one of whom owned the well.
Police have arrested the men, identified as Ishwar Joshi and Prahlad Lohar, in connection with the incident.
The matter came to light when a video of the alleged assault and stripping of the boys went viral on the social media on June 10.
The clip purportedly shows the two boys -- aged 15 and 16 -- being beaten up with a belt and paraded naked in Pahur village in Jamner taluka by the accused duo, a local police official said.
The boys had gone for a swim in the well belonging to Joshi, a farmer, in Wakadi village around 3 pm on June 10.
"While returning home after swimming, both the teenagers were caught by Joshi and his farm worker Prahlad Lohar," he said.
Joshi and Lohar allegedly started abusing the duo, stripped them off their clothes and started beating them with a belt, the official said.
According to the official, the cries of the boys to spare them fell on deaf ears.
He said the boys were paraded naked in the village while one of the accused used his mobile phone to film the incident and circulate it on social media.
The parents of the boys came to know about the incident after the video went viral, following which they approached the Pahur police.
On the complaint of the father of one of the victims, Joshi and Lohar were booked under sections 323 (Punishment for voluntarily causing hurt), 504 (Intentional insult with intent to provoke breach of the peace), and 506 (Punishment for criminal intimidation) of the Indian Penal Code, said the officer.
Sub-Divisional Police Officer (SDPO) Keshav Pathond told PTI that Joshi and Lohar were also booked under the Atrocity Act, Protection of Children from Sexual Offences Act (POCSO) and section 67 (B) of the Information and Technology Act.
They were arrested on the night of June 10 and produced before local court on June 11, which sent them to judicial remand.