Union minister Babul Supriyo wants Pakistani singer Rahat Fateh Ali Khan's song from upcoming film Welcome To New York to be removed.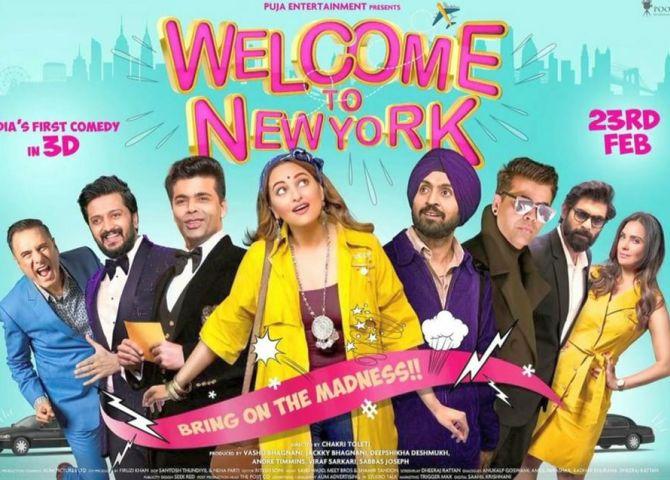 Union minister Babul Supriyo has reignited the debate over Pakistani artists working in the Indian film industry.
The Bollywood singer-turned-politician has said that the song Ishtehaar from upcoming film Welcome To New York should be removed as it has been sung by Pakistani singer Rahat Fateh Ali Khan.
The film, starring an ensemble cast of Karan Johar, Riteish Deshmukh, Diljit Dosanjh, Sonakshi Sinha, Boman Irani, Rana Daggubati, among others, also features Salman Khan in a special song.
Rahat Fateh Ali Khan has also sung a song for the Ajay Devgn-starrer film Raid which will release on March 18 this year.
"U don't need to be politically conscious Bhai .. just think about the families who lose their sons, brothers, husbands, young children who lose their dads & then think that u guys r standing up for an Atif or Rahat or Fawad?? Ther's nothing personal against them. Good artists BUT," Supriyo said on Twitter.
The minister of state for public enterprise and heavy industries further wrote, "If IPL can take a stand abt Pakistanis why can't Bollywood?? It will send a strong message worldwide.. But don't u think enough is enough now? Yes, I cud ba Sweet singer (thank u) but dies it mean I can't hv a strong opinion? Spare a thought for the braveheart guys Music?Later!!"
Even as many political parties have objected to Pakistani artists' involvement in Bollywood, there is no official ban or any restrictions on Pakistani artists by the BJP government in New Delhi, of which Supriyo is part.
In fact, in 2016, the National Democratic Alliance government led by Prime Minister Narendra Modi had clarified that they have not banned any Pakistani artists officially from performing in India.
The then spokesperson of external affairs ministry, Vikas Swarup, had said the government has not imposed any restriction on Pakistani artists in the country.
"As far as Government of India is concerned, there is no blanket ban on Pakistani artists," he had said.
However, opposition parties feel that Supriyo's demand to remove the song from the film is to distract from the current controversy over fugitive diamond merchant Nirav Modi as the Modi government is on the back foot after the former fled away after allegedly defrauding Punjab National Bank of Rs 11,500 crore.
Commenting on Supriyo's tweet, Congress leader Tehseen Poonawalla responded, "So minister Babul Supriyo has come up with one of the ways to distract us from the #NiravModiScam. Instead of hearing from the minister of heavy industries on NPAs & the #NiravModiLoot or the #PNBFraudCase we hear about Rahat Fateh Ali Khan. Terrible"
To which Supriyo responded, "Bhai Apka 1st name mein hi toh Teh-SEEN hai-Phir bhi kuchh dikhai nehi deti hai kya? Why are u holding on to any stray straw that floats on the water?why make it obvious CON-Gress has nothing 2 hold on to?Can't u see Nirav cornered from all angles by the authorities #BlindCON".
"True I performed in Pakistan twice in the mid-last decade .. during Hum Tum / Chori chori Chupke chupke / Sochta hoon.. my song Aate Aate on Rani & Ajay Devgan was a super hit in Pak but since then hv been denied visas twice for shows being organised by reputed organisers," he said in another tweet.
This is not the first time that demand for a ban on Pakistani artistes in Bollywood has been made.
Last year, in the wake of the Uri terror attacks, many Pakistani actors, like Fawad Khan, Mahira Khan, Ali Zafar and Atif Aslam were targeted by the Maharashtra Navnirman Sena, which had issued an ultimatum to them to leave India.
The party had also threatened to stall the releases of Fawad's Ae Dil Hai Mushkil, and Raees, starring Mahira.
Subsequently, the Indian Motion Picture Producers Association passed a motion to ban artistes from across the border from working in the industry till Indo-Pak relations are normalised.