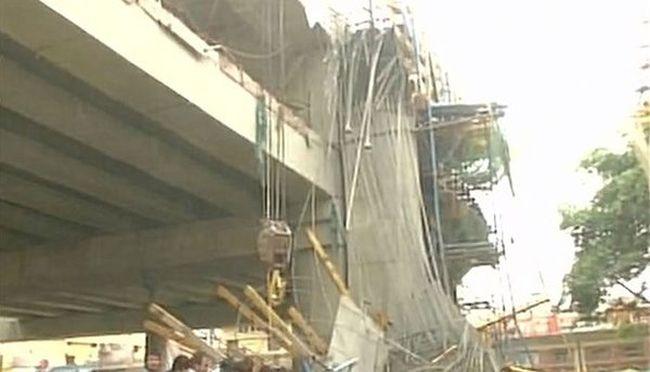 Shuttering between two under construction metro pillars in Lucknow on Sunday collapsed when workers were filling concrete to reinforce the portion between them, causing injuries to eight labourers.
There was however, no loss of life, District Magistrate Raj Shekhar said.
Giving details, Superintendent of PoliceRajesh Pandey said the incident occurred when metro workers were reinforcing the portion between the two pillars in Alambaugh area in Lucknow.
He said though few workers were injured, no death was reported.
Shekhar said eight workers were at the spot and all of them had been taken out and rushed to hospital for treatment of injuries.
To a question, he said no one was trapped in the debris.
The debris was being cleared and relief was being provided to the injured and an inquiry will be held to find out how the mishap occurred, he said.
The incident led to disruption in traffic. Vehicles have been diverted from the area.
"The incident took place at around 7 am when a slab of 10X2 metres which was being cast near Alambaugh bus station fell down," the district magistrate said.
One person has been admitted to King George's Medical University Hospital, Shekhar said.
"Rescue and relief works are going on. Administration, police and Lucknow metro rail corporation teams are on job. We have also called the National Disaster Response Force and it has reached the spot," the DM said.
Meanwhile, a Lucknow Metro Rail Corporation spokesman said, "Concreting work for the cross arm was going on at the site since midnight and it was about to be completed when the incident took place. The site has been cleared and the traffic has resumed."
He said, "A director level inquiry committee which will include safety experts from the general consultants has been constituted for conducting an inquiry into the incident. The committee will submit its report soon."
Asked about the incident, Chief Minister Akhilesh Yadav said, "All safety precautions will be taken. I will inquire about incident, issue directions to ensure safety of labourers. Those injured will be given free treatment."
Image: Metro rail project shuttering collapses in Lucknow. Photograph: ANI_News/Twitter