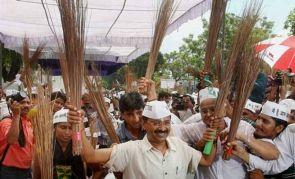 In fresh dissidence in the Aam Aadmi Party, National Council member Ashwini Kumar has alleged that most of the Lok Sabha tickets were "pre-decided" and given to candidates who have an association with Ford Foundation.
Addressing a press conference here, Kumar, who also claimed to be a founder member of the party, said that tickets for the Lok Sabha were pre-decided and that the party only used the data of the people who had submitted the forms.
"Most of the candidates who have been given tickets have been associated with the Ford Foundation", he claimed.
"The party only used the data given by the people in their forms for its purpose," he said.
Any candidate wanting to contest on AAP ticket for Lok Sabha was asked to submit the forms in which he/she had to get signatures and endorsments of 100 people in each constituency. It means that a candidate from Delhi had to get 700 signatures and endorsements since every parliamentary seat has seven assembly seats.
"The party used the data, which has contact details of those who have endorsed the aspiring candidate. This was the ploy of the party since the beginning," said Kumar, who also claimed to be the Legal Cell Convener of the party.
He said that over 164 people applied from Chandni Chowk constituency, 213 from East Delhi, 225 from North Delhi, 60 from Hisar, 50 from Gurgoan and 60 from Nagpur had applied for a party ticket.
Kumar also levelled a serious charge that the Moradabad seat was sold for Rs 1 crore, but could not give a satisfactory answer when asked to substantiate his allegation.
Aam Aadmi Party has, however, dismissed the allegations.
"He is not a convener of the Legal Cell, but just a volunteer. There have been some disgruntled elements after the ticket distributions. The allegations are baseless," said AAP's spokesperson Deepak Bajpai.
Image: AAP leader Arvind Kejriwal with party workers.
Photographs: Courtesy: AAP/Facebook